Technology
You're Using Foursquare All the Time. You Just Don't Know It
Apple, Uber, and more than 100,000 other app developers use the company's location data and other tools.
By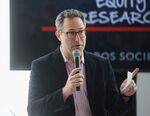 Foursquare Labs Inc. knows what it's like to go from hot to not. When the company introduced its namesake social media app at South by Southwest in 2009, it was an instant hit. The app broadcasts a smartphone user's location to friends to facilitate spontaneous meetups and offers other gamelike features, such as dubbing a user "mayor" of a favored spot through repeat visits. People loved it. Within months, the New York Times was calling Foursquare "the tool of choice" for young city dwellers, while Mashable declared that it "may be the next Twitter."
It wasn't. As Foursquare's novelty faded, user growth and investment stalled. But before the repo men had to cart off the furniture, co-founder and then-Chief Executive Officer Dennis Crowley realized the company had another card to play. While the tech world had cooled on Foursquare's breed of apps, it had become obsessed with data about the consumers who used them. What people like on Facebook, search on Google, and write about in Gmail are all valuable leads for marketers. So is a consumer's physical location—and Foursquare could figure that out with greater precision than anyone else.
In 2014 the company brought in Jeff Glueck, the marketing whiz who launched Travelocity.com's "roaming gnome," as chief operating officer. The Foursquare app was split in two, with the game-ified check-in portion moved to new app Swarm and the dining recommendations retained in the Foursquare City Guide, which had been a staple of the original. The engineering team then focused on creating a line of "location intelligence" offerings for business customers: Pinpoint, a platform that lets advertisers target consumers based on where they've been; Attribution, a tool that shows whether online ads result in store visits; Pilgrim SDK, which lets app developers detect users' locations; and Foursquare Analytics, which allows retailers to assess foot traffic.
Today the company works with Apple, Airbnb, Samsung, and more than 100,000 other app developers. Foursquare lets Snapchat tailor its photo filters to a user's location and enables Uber Technologies Inc. customers to enter a venue name as a destination. Privately held Foursquare says its revenue grew 74 percent in 2016 and that it should hit $100 million, and turn a profit, in 2018 or the year after.
Foursquare's greatest strength remains its uncannily accurate location data. As Swarm users move around in the world, Foursquare's Pilgrim technology monitors the numerous sensors in their smartphones, then guesses their location based on such signals as the identity and relative strength of available cell and Wi-Fi networks. Users confirm or correct the guesses each time they "check in" with a touch of the screen. Click by click, Swarm's users allow Foursquare to generate an ever more precise correlation between the world they see and the one their phones do. That means marketers can use Foursquare to target consumers with unmatched precision: knowing not just whether they're at the mall, but at which store.
Advertisers spent $12.4 billion in 2016 on location-targeted mobile phone users, estimates consulting firm BIA/Kelsey LLC, and they'll spend more than $33 billion by 2021. While the audiences of Facebook Inc. and Google Inc. dwarf the 50 million users of Foursquare's apps, the goliaths in the location-data market aren't necessarily in a position to crush smaller rivals, says Rick Ducey, managing director at BIA/Kelsey. "From a brand manager's perspective, you might want to buy data from three or four sources that have different formulas and different methodologies, because they give you different viewpoints," he says.
Foursquare's challenge is to simultaneously lure consumers into using its location-sharing apps and slice up the data they create to the satisfaction of business customers. "They did the Yogi Berra thing," Ducey says. "They came to the fork in the road, and they took it." Reflecting this split between the source of its revenue and the source of its data, in 2016 Crowley handed the CEO title over to Glueck and became executive chairman, spending more time developing the company's consumer apps.
Now Crowley can tinker with projects that aren't aimed at the near term. One of his early favorites is Marsbot, an app that tracks users' locations and serves up custom on-the-fly recommendations unprompted, like a souped-up version of Clippy, the much-maligned office assistant from Microsoft Corp. "My friends made fun of me, but I always thought Clippy was pretty cool," Crowley says. Marsbot has been available for more than a year as the team tinkers with it, but it hasn't received a sustained push.
In a more practical bid to shore up its consumer user base, Foursquare in August brought out a new iteration of Swarm that deemphasizes badges and other gamelike features in favor of "lifelogging," charting users' experiences as they move around the world. Where most lifelogging apps track steps taken or calories burned, Swarm records shopping, dining, and entertainment history, data that's "actually useful," Crowley says. "We're simplifying the story."
If that idea doesn't take off, Crowley has more. From the beginning, he says, he's been motivated by a desire to design "software that is a kick in the pants to go do something you haven't done before." As long as a decent number of users are willing to go along for the ride, Foursquare will have something to sell.
(Updated third paragraph to clarify that Glueck wasn't responsible for splitting the Foursquare app, and fourth paragraph to correct list of partner companies and profitability projection)
BOTTOM LINE -
Foursquare has remade itself as a consumer-tracking powerhouse aimed at marketers. It says it'll hit $100 million in revenue and turn a profit in 2018 or the year after.
Before it's here, it's on the Bloomberg Terminal.
LEARN MORE