Pernod Ricard Warns Strong Euro Will Erode Full-Year Profit
By
Distiller warns strong euro may reduce profit by EU125 million

Pernod's full-year operating income rose to EU2.39 billion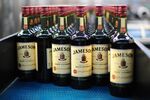 Pernod Ricard SA, the world's second-largest distiller, warned the strong euro will erode full-year earnings as it means revenue from selling Absolut vodka and Jameson whiskey in the U.S. will be worth less when converted from dollars.
Currency movements are expected to trim profit by about 125 million euros ($148 million), the Paris-based company said Thursday. The stock fell as much as 4.2 percent in early Paris trading, the steepest intraday decline in almost a year.
European companies are in the unusual position of facing a currency headwind that's crimping their results as the euro trades near its highest level since early 2015. That's bound to become a growing theme as earning reports accelerate later this month; Richemont's margins will probably contract by 430 basis points due to the strong euro, Mario Ortelli, an analyst at Sanford C. Bernstein said Wednesday. The euro has gained 6.5 percent against the dollar in the past 12 months.
The outlook is worse than expected and could lead to a 3 percent downgrade to earnings per share, Exane BNP Paribas analysts led by Eamonn Ferry wrote in a note to investors.
Pernod Ricard's profit from recurring operations should rise 3 percent to 5 percent this fiscal year on an organic basis, which excludes currency shifts, the Chivas Regal maker said. Earnings rose 3.3 percent by that gauge in the 12 months through June, matching analysts' estimates, and in the middle of its forecast for 2 percent to 4 percent growth.
Last month, Kenneth Griffin's investment company Citadel LLC bet 1.33 million shares worth about 157 million euros ($183 million) against the distiller in its largest publicly disclosed short position.
Pernod Ricard's currency forecast is based on an average euro-dollar rate of 1.18.
"It's still early on in the year, so who knows where the euro will end up against the dollar?" Chief Executive Officer Alexandre Ricard said on a call with investors. "In any case, that's life."
Other highlights include:
Pernod Ricard expects a ban on selling alcohol near highways to cut into revenue from India until the second half of this year, Ricard said in an interview; he nonetheless foresees improvement in that market this year
Among the company's largest brands, Jameson Irish whiskey and Perrier-Jouet champagne delivered the strongest sales growth, with increases of 15 percent and 11 percent respectively
Pernod Ricard expects U.S. market growth of around 4 percent; the company's performance is currently slightly trailing that of the market
Before it's here, it's on the Bloomberg Terminal.
LEARN MORE