Economics
How to Make 8 Million Miserable Commuters Much Happier
A $12.5 billion project is under way to build a new, rapid transit system in Mumbai that will be busier than metros in New York and London.
By and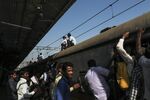 New Yorkers grumbling about their subway commute should spare a thought for Mumbai's 8 million daily rail travelers.
The expanding mega city's suburban railway is one of the busiest for commuters in the world. It's also one of the most crowded and, with more than 3,000 deaths last year, among the most dangerous. That's why there's an 800 billion rupee ($12.5 billion) project under way to build a new, rapid transit system that will carry an estimated 7 million more passengers — making it busier than metros in New York and London.
Visitors and residents of India's financial capital can't escape the sprawling excavation and the concrete and steel structures snaking above ground, choking off roads and causing traffic jams. That's particularly true now, with Mumbai's annual monsoon downpours adding to the bedlam. As the city's most ambitious civil engineering project gains pace, Mumbaikars are counting the cost of decades of infrastructure neglect — from noise pollution and lost productivity, to the loss of urban green cover and the possible destruction of 11th century artifacts.

"How can you build this infrastructure without disturbing the city?" said Ashwini Bhide, managing director of Mumbai Metro Rail Corporation Ltd., which is building an underground line that will shuttle under some of Mumbai's older neighborhoods. "If you don't do it today, you won't be able to do it anytime because the load on the city will only increase."
Mumbai has the oldest suburban railway in Asia. Trains have been chugging up its Central line — between what's now the World Heritage listed Chhatrapati Shivaji Maharaj Terminus in the city's south and Thane, 34 kilometers (21 miles) north — since 1853. About a decade later, sections of what's currently the Western line began to operate as well.
While subsequent extensions and upgrades have expanded the network, it's not grown anywhere near fast enough to accommodate the swelling population of the city and its suburbs, which has doubled to more than 20 million over the past three decades, making it the world's second most-crowded metropolis.

Trains depart the city's two main terminal stations every two minutes during peak hours, leaving limited room to add capacity. The often-dangerously crowded compartments force those who can afford it to travel by car, though this can be frustratingly slow.
"The city's suburban railway network is overcrowded and no longer safe," said Bhide.
Mumbaikars were reminded Aug. 29 of another shortcoming after the city was paralyzed by its heaviest rainfall since 2005. All three existing train lines in the commercial hub were suspended as tracks flooded and commuters were forced onto the streets and into gridlocked traffic. For some, their regular hour's journey home became a eight-hour-long nightmare.

The metro project, which will operate separately from the original railways, aims to alleviate some of these issues with the planned opening of seven additional lines by 2022. Former Prime Minister Manmohan Singh laid the foundation stone for the first phase of the Mumbai Metro project in June 2006. Operator and co-owner Reliance Infrastructure Ltd. opened it in June 2014 and some 360,000 people now ride Line 1 on weekdays.
Construction has started on three more lines, and work on two others will begin after the monsoon ends in September, according to Urvinder Pal Singh Madan, a commissioner with the Mumbai Metropolitan Region Development Authority, which is responsible for improving the city's infrastructure. Work on all seven lines will be underway by early 2018.
"We decided that we should go for an integrated approach, so a number of projects must start simultaneously," Madan said in an interview at his sprawling office overlooking the gleaming office towers of Bandra-Kurla Complex, one of Mumbai's business districts. "Otherwise, by the time we complete the eighth line or ninth line, it will be 30-to-40 years," he said, indicating that future expansions are on the cards.

All but one of the lines will be elevated, which will help minimize disruptions during the construction phase and thereafter during the torrential monsoon downpours that often flood Mumbai, occasionally with the severity seen at the end of August. Light blue metal partitions have become ubiquitous across the city as sidewalks and roads are blocked off to prepare for the underground dig or construction of concrete pillars to support the tracks.
The sole underground line is raising the ire of environmentalists as the tunneling is predicted to generate 5 million metric tons of mud. According to Stalin D., director at environmental group Vanashakti, the mud will be used to reclaim part of the Arabian sea for construction of a coastal road and a spot to accommodate a 210-meter statue of Chhatrapati Shivaji, the 17th century Hindu warrior king, after whom the Gothic revival-style train terminus was re-named.

Thousands of trees will also be affected to make way for the tunnel-boring machines and infrastructure including a car shed planned in Aarey Colony, a vast tree-covered area that is roughly four times the size of New York's Central Park. The garage will occupy 62 acres or about two percent of the land Aarey covers, according to the Mumbai Metro Rail.
Archaeologists are working with Mumbai Metro Rail to preserve any historical artifacts beneath Aarey, where there have been discoveries dating to the 11th century Shilahara-Yadava period. Mumbai, formerly known as Bombay, may have been inhabited since the Stone Age.
"There is enormous antiquity to Bombay and this goes back to the prehistoric period," said Kurush Dalal, assistant professor of archaeology at the Centre For Extra Mural Studies at the University of Mumbai. "At the moment, work is on and there are a lot of stray finds in the entire Aarey region and very tantalizing clues."
Dalal's team will survey the metro route as the tunneling proceeds and monitor the work in Aarey. He is also discussing sensitization workshops for the engineers involved in the construction so they know what may be uncovered during the digging.

To ensure that construction of the underground line doesn't damage Victorian-era Gothic-revival buildings, the world's second-largest collection of Art Deco structures and other residential properties above ground, seismic monitors will be used along with other safety measures during the tunneling.
One of the key reasons for deciding to go underground was to protect the skyline, Bhide said. But going underground has its own challenges. Mumbai's haphazard and often chaotic development above ground is mirrored below with poorly-marked storm-water ducts and pipes carrying water, electricity, telephone cables, gas and sewage.
"Everything is either not mapped or not mapped correctly," said Madan. "Sometimes it's not possible — or too expensive — to shift those utilities, so we have to shift our piers, which are coming in the way."
Before it's here, it's on the Bloomberg Terminal.
LEARN MORE