House Plans Vote on Harvey Funds in Mid-September
By and
Perry, flying to Texas, says 'no idea' how much money needed

Vice President Pence says housing is biggest long-term concern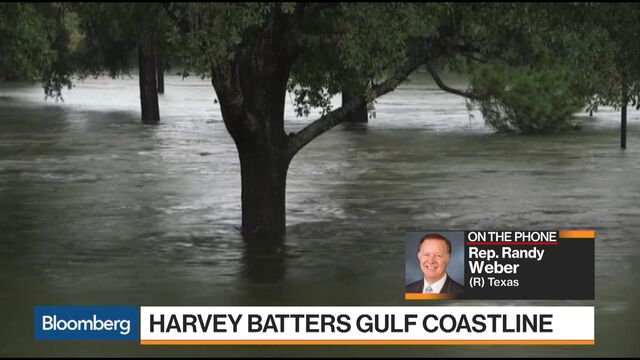 The U.S. House will most likely vote on the first phase of emergency relief money for Hurricane Harvey in mid-September after returning from summer recess, a Republican aide said Thursday.
The initial down payment would replenish Federal Emergency Management Agency funds used in the immediate aftermath of the massive storm that flooded parts of Houston with more than 50 inches of rain, said the aide, speaking on condition of anonymity. The House and Senate are set to return to Washington Sept. 5.
"I've got every confidence that Congress will deal with this in a timely way," Energy Secretary Rick Perry, a former Texas governor, told reporters aboard Air Force Two en route to Corpus Christi on Thursday.
President Donald Trump's administration plans a "responsible supplemental" budget request designed to restore the Houston region that will come in two stages, White House Homeland Security Adviser Tom Bossert told reporters at a briefing.
The first portion will be geared toward keeping FEMA's "core operating function" intact and pouring money into a federal disaster relief fund, he said. The fund is projected to have an end-of-year balance of $1.45 billion, but that assessment came July 31, before the storm hit Texas.
Vice President Mike Pence told reporters that housing is the biggest long-term concern in the hurricane zone, following search-and-rescue operations and moving people out of shelters. More than 2,000 manufactured FEMA homes are being sent to the area and another 4,000 have been ordered, he said.
The House Republican aide said appropriators might need more than the first week back in Washington to get a bill ready for a floor vote. A fuller aid plan focused on rebuilding the affected parts of Texas and Louisiana would come later in September once there's a more complete assessment of the damage, the aide said.
Senate Plans
In the Senate, where Republican leaders plan to start debate on an annual defense bill after returning from the monthlong recess, there has been no indication of a change in plans.
Texas's two senators, Republicans John Cornyn and Ted Cruz, both said this week that they'll work with the Texas House delegation on a relief measure. Cruz told reporters in Houston Wednesday it will "take some time" to decide what's needed.
"I spent yesterday with the president in Corpus Christi and Austin and the president was unequivocal in his commitment that the administration would be there for Texas," Cruz told reporters at Houston's George R. Brown Convention Center, which is being used as a shelter for storm victims. He added he anticipates "providing the aid that Texans need."
Cornyn, the second-ranking Republican leader, also told reporters he'd spoken with Trump about taking action soon.
"This is not just money that's doled out for any purpose,'' Cornyn said in a statement. "This has to be targeted for disaster relief and recovery from Hurricane Harvey."
— With assistance by Jennifer Jacobs
Before it's here, it's on the Bloomberg Terminal.
LEARN MORE