Harry Reid Sought White House Help for Menendez Donor, DOJ Says
By and
Obama staffer wouldn't intervene after Reid's phone call: U.S.

Senator and Florida doctor face corruption trial next week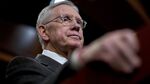 Follow @bpolitics for all the latest news, and sign up for our daily Balance of Power newsletter.
U.S. Senator Robert Menendez, in trying to help a campaign donor who was accused of overbilling the government, enlisted then-Senate Majority Leader Harry Reid to "amplify the pressure" on the Obama administration, the Justice Department said.
Reid contacted a White House staffer, who declined to help, prosecutors disclosed Wednesday in a court filing.
Menendez, a New Jersey Democrat, faces a corruption trial next week with Salomon Melgen, a Florida eye doctor and close friend accused of bribing him with hundreds of thousands of dollars in campaign contributions and lavish trips in exchange for his help on government disputes.
Menendez "enlisted" Reid in November 2011 to help pressure the Centers for Medicare and Medicaid Services, known as CMS, to reverse its ruling that Melgen owed $8.9 million for overbilling Medicare. Reid contacted a White House deputy chief of staff, prosecutors said.
"At that time, the Majority Leader reached out to the White House Deputy Chief of Staff, informing her that Menendez was upset about how a Florida ophthalmologist was being treated by CMS and asking that she call the agency," according to the 30-page filing.
But the staffer, who wasn't identified, "demurred" after "recognizing the matter involved a dispute between a single doctor and an administrative agency," according to prosecutors. The filing doesn't offer further details about what Menendez allegedly asked Reid to do. Reid isn't accused of wrongdoing in the case.
'Lurid Narrative'
Defense lawyers for Menendez and Melgen responded Wednesday with a letter complaining that prosecutors filed a "lengthy, lurid and one-sided narrative of the case'' that includes "new, irrelevant and inflammatory 'facts.'''
The Justice Department filing, called a "Trial Brief,'' wasn't solicited by the judge and came after a juror chosen last week to hear the case has been excused for financial hardship, the lawyers said. A new juror must be chosen and may be exposed to the fresh pretrial publicity, they said.
"With its unnecessary presentation, irrelevant to the actual legal issues in the 'brief,' the gratuitous filing will make it harder to fill the remaining jury spot,'' wrote the lawyers, adding that they won't offer a further response to the allegation until the trial.
Efforts to contact Reid at the University of Nevada, Las Vegas, where he's affiliated with the law school, were unsuccessful, and his representatives didn't immediately return calls and emails seeking comment on the filing.
Separate Relationship
Melgen and Reid had their own relationship. Prosecutors say Melgen gave $600,000 in 2012 to Majority PAC, a political action committee intended to expand the Democratic majority in the Senate. The money was earmarked for Menendez's electoral race in 2012, prosecutors say. In June 2012, Melgen flew Reid on his company's private plane from Washington to Boston and back for a Senate Majority PAC event, Politico has reported.
Though the alleged White House contact by Reid isn't part of the charges against Menendez, prosecutors seek to tell jurors about it as proof that the lawmaker intended to pressure another official to perform an "official act."
The U.S. Supreme Court narrowed the definition of official acts last year in setting aside the conviction of former Virginia Governor Bob McDonnell. The high court said prosecutors must prove an official act involved a formal exercise of power and be "something specific and focused" pending before a public official.
The U.S. indictment against Menendez and Melgen details how Menendez and Reid met with Kathleen Sebelius, then-secretary of the U.S. Department of Health and Human Services, to discuss policies that affected Melgen. That meeting on Aug. 2, 2012, took place in Reid's Capitol office, according to Wednesday's filing.
Close Friends
Both Menendez and Melgen have pleaded not guilty and deny wrongdoing. They say they have been close friends for two decades, and that the $771,500 in contributions that Melgen gave to the senator's defense fund and various campaign committees, as well as trips on private jets, were not part of a corrupt scheme.
The filing also offered an overview of the government's case against Menendez and Melgen, who was convicted earlier this year in a separate trial over health-care fraud. The doctor sought the senator's help in getting visas for three of his girlfriends and pushing the Dominican Republic to honor a contract he held to provide security in that nation's ports, prosecutors said.
The filing includes some fresh flourishes about the luxury trips that Menendez is accused of taking on Melgen's tab. The Dominican resort where Melgen had a villa is a "tranquil Caribbean enclave, venerated for its seclusion" that attracted "luminaries in sports, entertainment and business, including Beyonce, Jay-Z, Jennifer Lopez, Richard Branson and Bill Gates," prosecutors said.
Prosecutors attacked the heart of the defense argument that the two men had a longtime friendship that never became a corrupt pact.
"It is not uncommon for defendants to establish some evidence of friendship in bribery cases but still be found guilty," according to the filing. "Just as genuine friendship may underlie a business arrangement, it should come as no surprise that friendship may very well form the foundation of a corrupt endeavor."
The case is U.S. v. Menendez, 15-cr-00155, U.S. District Court, District of New Jersey (Newark).
— With assistance by Steven T. Dennis
Before it's here, it's on the Bloomberg Terminal.
LEARN MORE