France Unveils Plan to Fix Labor Markets
By , , and
Long-awaited measures follow reforms done elsewhere in Europe

Two major unions say they won't join street demonstrations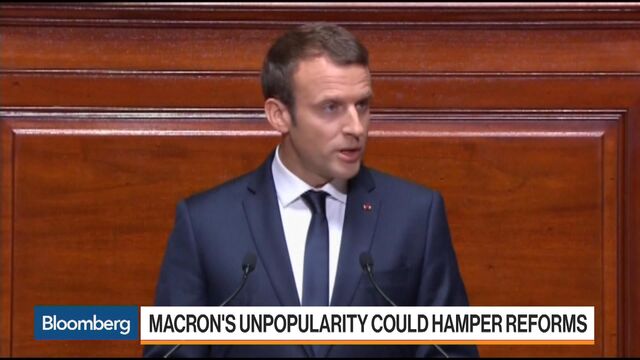 The French government presented a plan to loosen the labor code Thursday, President Emmanuel Macron's high-stakes bet to tackle a stubbornly high unemployment rate and lay the foundations for a broader reform of his country and the European Union.
Prime Minister Edouard Philippe and Labor Minister Muriel Penicaud set out 36 measures in five separate decrees to give French companies more power to negotiate hours and pay, slash the number of workers' committees, and limit penalties for wrongful dismissal. While the more radical CGT union is preparing to protest on Sept. 12, the country's two other main collectives were largely won round by Philippe's diplomatic outreach.
Macron's Uphill Battle Against France's Labor Law: QuickTake Q&A
"No one can say that our labor code as it stands now promotes employment," Philippe said at a Paris press conference. "Our labor code is seen by foreign investors and by small company bosses as a deterrent to hiring."
Macron made labor reform a core issue during this year's election campaign, aiming to overturn decades of intransigence in statist France where the country's last three leaders had failed. While his campaign pledges mean that he has a mandate for change, polls show that the French public is wary of many elements of his proposals and the historically powerful CGT union is seeking to feed those fears.
"All of our fears have been confirmed," CGT leader Philippe Martinez said Thursday. "This is the end of the labor contract."

'Missed Opportunities'
Still, the more moderate CFDT, France's largest labor union, and the FO indicated they won't join the protest even though they oppose some elements of the plan. CFDT head Laurent Berger said after meeting Philippe Thursday morning that above all he objects to an order for judges to focus on a company's financial situation in France, and ignore profits it may be making abroad, when ruling on layoff plans.
He said the proposals also give too much power to small company owners to decide on labor issues unilaterally, though he added that the negotiations with the government had been "sincere." All the main business lobbies involved expressed approval.
"Macron wins the first battle," Antonio Barroso, an analyst at Teneo Intelligence in London, said in a note to clients. "The proposals will allow Macron to prove his reformist credentials and give him strong momentum to pursue further policy changes at home and abroad."
Courting Germany
The 39-year-old president needs to deliver the labor market reform (and meet France's budget-deficit target) to earn leverage with Germany and the European Commission as he pushes for a shakeup of the the economic policies of the 19-nation euro zone. He's said he aims to agree a road map for a new wave of European integration after the German election later this month.
"It's very satisfying that we have been heard on almost all the points we raised," said Alain Griset, head of the U2P association that represents 2.3 million artisans and small businesses. "For our companies, it's a very strong message, a message of hope."
The government will hold further talks with unions and business groups, and then approve the final plan at a Sept. 22 cabinet meeting after which it takes effect. Parliament has already given the government the power to enact the reforms by executive order. The government's next step is to overhaul France's tax system and job training schemes.
The measures "will introduce more flexibility in the French labor market, similar to what has been done in Spain and Italy," said Pierre-Olivier Beffy, chief economist at Exane BNP Paribas in Paris. "All in all, we think that the labor market reform will be passed on time."
Before it's here, it's on the Bloomberg Terminal.
LEARN MORE