Ex-Pakistan Ruler Musharraf Declared Fugitive in Murder Case
By and
Anti-terror court orders Musharraf's arrest in Bhutto Verdict

Former military ruler is in self exile since March 2016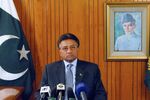 A Pakistan anti-terrorism court declared former military ruler Pervez Musharraf, who is currently overseas in self-exile, as an absconder and ordered his arrest after he failed to appear at the murder trial of ex-Prime Minister Benazir Bhutto.
The judge, Asghar Ali Khan, ordered the confiscation of Musharraf's assets, public prosecutor Azhar Ali Chaudhry said by phone, adding that the judge sentenced two police officers to imprisonment while finding five other suspects not guilty in the verdict handed down in the northern military garrison city of Rawalpindi on Thursday.
Musharraf will face the trial if he comes back to the country, Chaudhry said. The government also plans to challenge the acquittal of suspects as at least two of them were al-Qaeda members, he said.
Bhutto was killed in a suicide bomb and gun attack after a public rally in Rawalpindi in December 2007, months after she returned to the country from self-exile in London and Dubai to contest elections. Musharraf, who lives in Dubai and faces several criminal charges including a treason case for suspending the constitution, was implicated in the case for not providing adequate security to Bhutto.
The verdict will be challenged as it is beyond comprehension and does not meet the standards of justice, Shahzad Arbi Satti, an information secretary at Musharraf's All Pakistan Muslim League party, said on phone. "There will be no justice till Pervez Musharraf answers for his crime," Bhutto's daughter Asifa commented in a Twitter message after the order.
Musharraf, who ruled from 1999 to 2008 after coming to power in a bloodless coup, went overseas in March last year after the government cleared his travel following a Supreme Court order that lifted a 2013 ban barring him from international trips.
— With assistance by Ismail Dilawar
Before it's here, it's on the Bloomberg Terminal.
LEARN MORE