Beaten at Home, Chinese Milk Formula Makers Forge Ties Abroad
Bloomberg News
Foreign cos. tap rising demand after 2008 melamine scandal

Domestic brands still struggle to regain consumer trust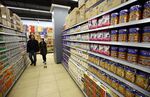 Chinese infant formula producers are going global to regain market share at home after a melamine scandal almost a decade ago crippled consumers' trust in locally-made products.
Feihe International Inc. is the latest company to invest in overseas manufacturing, spending C$300 million ($238 million) to build a plant in partnership with Canada Royal Milk in Ontario. That follows similar moves by Inner Mongolia Yili Industrial Group Co., which has invested in plants in the U.S. and New Zealand, and Yashili International Holdings Ltd.
Foreign companies still have a lock hold on China's $19.5 billion infant formula market after melamine-tainted formula led to the deaths of at least six babies and sickened tens of thousands in 2008. With consumers weary of food scandals, domestic brands continue to struggle to capture market share despite tough government regulations aimed at rebuilding confidence, rigorous inspections and crackdowns on offenders. Now some companies are looking to make formula overseas and then sell it to consumers back home.

"China's quality inspections have improved significantly," said Dingmian Wang, former president at Guangdong Dairy Association. "However, the industry is having problems convincing consumers."
That distrust has been a boon for overseas companies to surging demand that's seen milk formula sales value almost double between 2011 and 2016, according to a Euromonitor International report. Nestle SA, Danone, Mead Johnson Nutrition Co., Royal FrieslandCampina NV, American Dairy Inc. and Abbott Laboratories account for more than 50 percent of China's market, according to data from the market researcher. Inner Mongolia Yili has carved out a 5.4 percent share.
Read more: China's battle against fake foods drives new tech frontier
Domestic makers, resigned to consumer distrust despite government assurances, are increasingly taking a new tack: If they can't beat foreign competitors on their home turf, why not join with them.
Partners
"I see partnerships as a good way for Chinese companies to invest overseas, especially in advanced economies," said Wei Li, a lecturer at the University of Sydney Business School. The other motivation "is to expand their supply chain, which gives them more control over quality and enables them to capitalize on the huge demand in the Chinese market," Li said.
China Animal Husbandry Group, which has a majority stake in Mataura Valley Milk, last year invested in building a powder plant in New Zealand. Beingmate Baby & Child Food Co. bought 51 percent of an Australian plant from Fonterra Co-operative Group Ltd. last year.
"Since 2008, consumers have lacked confidence in domestic brands and blindly hold foreign products in esteem," said Guogang Zhu, deputy manager of public affairs at Yashili, which partnered with Denmark's Arla Foods to develop a premium formula product called 'Baby & Me'. Now, he said, domestic brands are too similar and compete mainly on price.
Rebuilding
In 2008, authorities found that melamine, widely used to make plastics, was added to diluted milk to make the protein content appear higher. But the chemical can also interfere with normal functioning of kidneys, and sickened tens of thousands. Sanlu Group Co., one of 22 companies that sold tainted formula, went bankrupt in December 2008.
"After these incidents, we basically handed over the market to foreign companies," said Yongning Wu, chief scientist at China National Center for Food Safety Risk Assessment, referring to the 2008 case and another in 2004 in Anhui province where fake infant formula was sold to families, causing the death of 13 babies and malnutrition in about 170 infants.
Read more: China's epic race to avoid a food crisis
In order to rebuild the market, Wu said, the government has established what he describes as the most stringent infant formula requirements in the world. "But mothers just won't trust" domestic brands, Wu said.
The National Health and Family Planning Commission published a series of documents in 2010 to regulate dairy products including requirements for nutritional content and standards for manufacturing and transportation. China requires domestic and foreign infant formula makers to register with the China Food and Drug Administration and limit the number of products and brands produced.
Years later, memories remain sharp. Sophia Li, a mother of a two-month old baby in the southern city of Guangzhou, said she now asks a relative in Australia to bulk mail infant formula directly from a warehouse there. "I don't trust domestic brands," she said.
— With assistance by Ken Wills, and Jiefei Liu
Before it's here, it's on the Bloomberg Terminal.
LEARN MORE