technology
Alphabet's Nest Launches Cheaper Thermostat to Boost Sales
By
'Thermostat E' has plastic edges, lower-end screen; costs $170

Competition in the market for smart home devices is heating up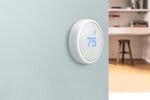 Alphabet Inc.'s Nest introduced a cheaper version of its digital thermostat to spur sales as the smart home sector gains new competitors.
The new model, the Thermostat E, costs $170, coming in $80 below the current version, Nest said. To cut costs, Nest used plastic rather than metal for the edges that surround the circular thermostat and swapped the full color screen for a frosted display with fewer colors. The cheaper model still functions similarly to the original, allowing users to adjust the temperature by turning the device's circular dial. It still connects to a smartphone, letting people adjust their home's climate remotely, and adapts to conditions and use automatically.
Nest was founded -- and acquired by Google in 2014 for $3.2 billion -- based on a long-term goal of becoming the leading operating system for the home. Lately, the focus has been on boosting sales of its hardware devices. The Alphabet unit is also working on a home security system as well as a doorbell with a built-in video camera for next year, people familiar with the plans told Bloomberg News in March. Nest doesn't disclose results, but its a big part of Alphabet's Other Bets division, which reported second-quarter revenue of $248 million, up 34 percent from a year earlier.
The Thermostat E launch is Nest's second product of the year. In May, it announced the Nest Cam IQ, an indoor security camera that records high-resolution video and senses when people enter the field of view. With the new products, Nest hopes to strengthen its position in a growing smart home market that is seeing new entrants from established technology companies like Amazon.com Inc. and Apple Inc., as well as startups including Otto. The market for such appliances will be worth nearly $140 billion by 2023, according to research firm MarketsandMarkets.
To further control the cost of the Thermostat E, the screen only displays climate controls and does not show the time or weather like the higher-end model. It also works with fewer HVAC configurations, supporting 85 percent of home systems versus 95 percent for the more expensive model, according to Nest.
The new thermostat goes on sale Sept. 1, Nest said. The $250 metal version remains on sale, and was not updated this week. The cheaper thermostat was reported by Bloomberg News earlier this year.
— With assistance by Mark Bergen
Before it's here, it's on the Bloomberg Terminal.
LEARN MORE