Inflation Roars Back in Venezuela
By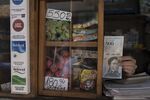 There's been a lot of buzz in Venezuelan financial circles recently about how inflation has taken off once again.
Our Cafe Con Leche Index, however, was showing no such thing. Until now. After three straight months of no increases in the price of a cup of coffee, it shot up 22 percent this week to 2,800 bolivars. That brings the inflation rate over the past 12 months to 460 percent.
Economists have been warning for weeks of a spike in prices after the Maduro government cranked up the money-printing presses in order to put cash in people's pockets and curry favor in the run-up to last month's constituent-assembly vote.
Keep an eye out for further updates to the index -- which we created after the crisis-torn country stopped publishing economic data -- to see if this week's surge was a one-off blip or the first of many.
Before it's here, it's on the Bloomberg Terminal.
LEARN MORE