technology
Uber's Kalanick, Benchmark Face Off in Court Over Board Fight
By and
Benchmark claims Kalanick duped firm to get Uber board seats

Ex-Uber CEO wants investor lawsuit tossed, or arbitrated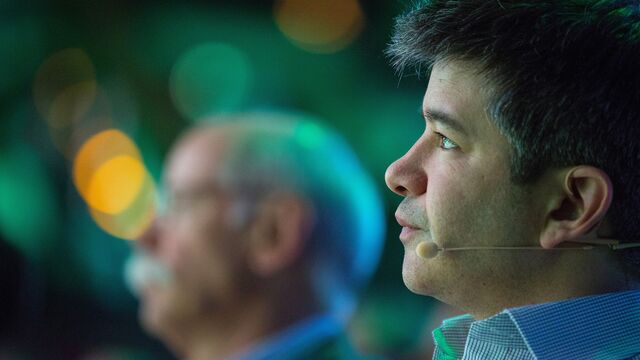 Lawyers for Uber Technologies Inc. co-founder Travis Kalanick are facing off before a Delaware judge with venture capital firm Benchmark, the company's largest shareholder, which is attempting to oust him from the company's board.
Benchmark took the unusual step earlier this month of waging a public battle with the founder of a startup it invested in, accusing Kalanick of duping the firm in order to gain control of three board seats. Kalanick is fighting back with claims that Benchmark pressured and threatened him into resigning as chief executive officer in June.

Chancery Judge Sam Glasscock III is hearing arguments on Wednesday in Georgetown, Delaware, amid increasing animosity between the two sides. At least three issues are before the judge, whether to fast-track the case, as Benchmark want, or throw it out or send it to arbitration, as Kalanick wants. Arbitration would keep some details of the board fight out of public view.
Uber Backer Defends Kalanick Against 'Sanctimonious Hypocrites'
Benchmark, which holds a 13 percent stake in Uber, sued Kalanick Aug. 10, saying he misled the firm about his performance as chief executive and the reasons behind his request to expand the company's board from eight to 11 seats. The firm claims Kalanick sought to pack the board with allies willing to keep him as a director after he resigned. 
Benchmark also blamed Kalanick for a slew of Uber scandals, including his involvement in trade-secret theft claims tied to a lawsuit by Alphabet Inc.'s self-driving car business and accusations of workplace hostility to women.
In turn, Kalanick dismissed Benchmark's fraud claims as a "fabrication," arguing that the firm was aware of all the events on which it based its suit.
Kalanick's lawyers have also objected to Benchmark's request for a so-called "status quo" order that would temporarily bar the former CEO from filling two open Uber board seats. Such a request is "drastic and unwarranted," the lawyer said.
Why Uber's Latest Fight Could Get All Sides Hurt: QuickTake Q&A
Benchmark argued the opposite, telling Glasscock that allowing Kalanick to fill the seats "and act as the decisive board vote would seriously damage Uber and its stockholders."
The case is Benchmark Capital Partners VII LP v. Kalanick, CA 2017-0575, Delaware Chancery Court (Georgetown).
Before it's here, it's on the Bloomberg Terminal.
LEARN MORE