HNA's Financing Costs Soar After Shopping Spree
By
Profit levels insufficient to pay off financing expenses

Group has among highest interest expenses among Chinese firms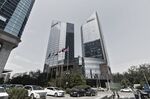 Start your day with what's moving markets in Asia. Sign up here to receive our newsletter.
HNA Group Co.'s financing costs more than doubled during the first half of the year, signaling the conglomerate's $45-billion-plus acquisition spree since 2015 is catching up with the company.
The diversified group, which in recent years bought large stakes in companies such as Hilton Worldwide Holdings Inc. and Deutsche Bank AG, saw such expenses surge to 14.2 billion yuan ($2.1 billion) from 6.47 billion yuan a year earlier, according to its semiannual report released Wednesday. Based on Bloomberg calculations, earnings before interest and taxes were insufficient to cover those costs, a rarity for a company of HNA's size -- even in China.

The results help illustrate the increasing strain HNA is under after a debt-fueled shopping binge made it stand out as one of the country's top buyers of global assets, putting the company in the crosshairs of a government that's clamping down on capital outflows. The figures also gave the latest signs that the group is turning to more expensive forms of borrowing as traditional means of financing shrink.
The main reason financing has gotten costly for HNA is because of interest expenses. To put into perspective how high payments have gotten, consider this: Based on data available on Bloomberg as of the end of August, the 15.6 billion yuan HNA spent on interest during the first half was more than at any other non-financial firm -- listed or unlisted -- in a country where corporate debt levels have surged to a record 156 percent of gross domestic product.
A representative at closely held HNA declined to comment. Most of HNA's China- and Hong Kong-listed units fell Thursday.
Financing costs during the first half, as a percentage of total debt, rose from a year earlier, indicating HNA is paying higher rates for its borrowings. A recent Bloomberg News review of more than 100 investment documents and corporate filings showed how HNA companies often employed a network of trusts and asset management products for funding, sometimes paying interest rates on shadow-banking debt that far exceeded China's benchmark rates for bank loans and bond issuance. HNA has said that financing from non-bank institutions only makes up a "small" portion of the group's overall funding.
Read more: How HNA is tapping China's murky shadow-banking market
While acquisitions such as the $6.1 billion purchase of Ingram Micro Inc. bolstered revenue and assets, profitability hasn't kept up with the expansion. Net income during the period was 0.3 percent of revenue and less than 0.1 percent of assets -- among the lowest levels in China for a company of HNA's size.

Despite HNA's inability to cover its financing costs through profits, the company still has a buffer. The group had 185.1 billion yuan in cash and equivalents by the end of June, or 13 times its financing expenses.
Behind the growth in revenue and assets are acquisitions, which have helped what started out as a small regional airline transform itself into a globe-trotting collector of assets. In the past year, HNA's purchases have ranged from the 245 Park Ave. building in Manhattan to CIT Group Inc.'s commercial aircraft-leasing business and a stake in Old Mutual Plc's U.S. asset-management unit.

But HNA has yet to sell any major assets.
HNA's acquisition spree eventually attracted the scrutiny of the Chinese government, which has been cracking down on overseas investments since late last year to protect the yuan from depreciating. In June, news began to emerge that Chinese government arms began scrutinizing the country's top dealmakers -- namely HNA, Dalian Wanda Group Co., Anbang Insurance Group Co., Fosun International Ltd. and the Chinese buyer of the AC Milan soccer club.
With mounting regulatory scrutiny at home and questions about its ownership structure abroad, HNA's been facing increasing difficulty closing deals.
Read more: QuickTake explainer on HNA
HNA has signaled their acquisitions will slow this year and the group aims to do more deals that complement the Chinese government's "One Belt, One Road" initiative. Examples include its purchase of Germany's Frankfurt-Hahn airport and its recently announced S$1.4 billion takeover offer of Singaporean logistics company CWT Ltd.

Even if the pace of acquisitions slows, concerns over HNA's debt levels aren't likely to go away.
"Not generating enough cash or earnings not covering interest costs will always be a concern for highly leveraged companies," said Nigel Stevenson, an analyst at financial research firm GMT Research in Hong Kong. "With the seeming change in attitude to HNA, the prudent course would be for the company to reduce leverage by selling some of their assets."

— With assistance by Hannah Dormido, and Sven Lan
Before it's here, it's on the Bloomberg Terminal.
LEARN MORE