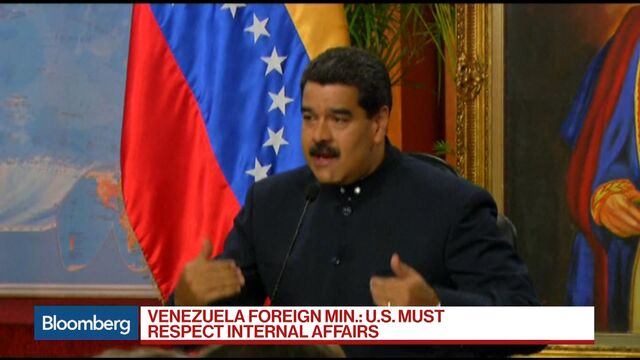 Among the many changes Donald Trump has brought to the White House is a more combative approach toward punishing what the U.S. sees as outlaw nations. The president has approved fresh congressional sanctions on Russia, Iran and North Korea, imposed his own additional embargoes on Venezuela and delayed efforts begun under the Obama administration to lift sanctions on Sudan. These developments can be dizzying for traders looking to pounce on riskier securities, such as assets from a previously sanctioned nation or one under threat of sanctions. Keep in mind: Sanctions come in many different shapes, sizes and flavors.
1. What are the different kinds of sanctions? 
One way to think of them is as comprehensive, partial, personal, sectoral or secondary. Comprehensive U.S. sanctions, the most serious kind, currently restrict trading in Crimea, Cuba, Iran, North Korea, Sudan and Syria. A company that provides substantial help to an entity under sanctions may be placed under secondary sanction. An example of a sectoral sanction is one created in 2014 to ban selling dollar-denominated bonds that mature in 30 days or more to Russian banks. The Office of Foreign Assets Control, part of the U.S. Treasury Department, oversees enforcement of sanctions. U.S. residents, entities and their affiliates are prohibited from trading securities with people, companies and countries that are under sanctions.
2. What's complicated about that?
OFAC's list of "specially designated nationals" -- those falling under active sanctions -- currently runs 1,051 pages and includes Japanese mafia members, Latin American drug traffickers and members of the Revolutionary Guard in Iran. Exxon was recently fined $2 million for transactions in which Igor Sechin, the chairman of Rosneft, the Russian oil giant, was a signatory; he was put on OFAC's list in 2014. The U.S. also has sanctions in place against a variety of companies, such as Sudan Telecommunications Co. and Mostotrest PJSC, which is helping build a multibillion-dollar bridge linking Russia's mainland with annexed Crimea. Traders, companies or banks can get in trouble for a transaction that involves a sanctioned entity and some cash nexus with the U.S., like a shipping company in Singapore that's paid in dollars for cargo that goes through Iran. And there can be penalties for doing business with a company that's majority-owned by a sanctioned person or company -- something that can be difficult to figure out.
3. What can traders do when sanctions affect their holdings?
Not much. Once sanctions are levied, those investments are usually frozen and can't be traded until the restrictions get eased. That can be a painful wait for traders seeking to take profits or reallocate their holdings. But there are exceptions: When Mostotrest was sanctioned in September 2016, the U.S. government gave investors 30 days to liquidate their equity and debt positions.
4. What happens when sanctions get lifted?
In the near term, assets may rally. Iranian stocks, for instance, have risen to the highest level in three and a half years following the lifting of sanctions imposed on the nation over its nuclear program. Less likely is a rapid pick-up in foreign investment. Even after sanctions are lifted, fund managers often shy away from piling into opportunities, given warnings from their compliance departments.
5. Who typically makes these investments?
Hedge funds, geographically specialized boutique firms and distressed traders are typically the most active buyers of securities recently removed from sanctions lists. Institutional investors are usually slower to react. Sometimes, local investment groups such as Iran-based Turquoise Partners may set up a fund that helps international investors get exposure after sanctions are eased.
6. Where are the newest sanctions?
On Aug. 25, the Trump administration barred the trade of new debt issued by the Venezuelan government and its state oil company in U.S. markets and blocked dealing in some existing bonds owned by the country's public sector to further clamp down on President Nicolas Maduro's regime. That same week, the U.S. Treasury added 10 Chinese and Russian entities to its sanctions list, accusing them of assisting North Korea in its development of nuclear weapons and ballistic missiles.
7. Which sanctions might be lifted soon?
Sudan is the most likely candidate. The U.S. will probably decide by October whether to permanently lift some sanctions on the North African country. In July, the State Department said Sudan's government had made "significant, substantial progress in many areas," including anti-terror cooperation. 
8. How can investors bet on sanctions being lifted?
They can choose from a variety of proxy funds that invest in non-sanctioned assets that stand to benefit from the removal of sanctions. For example, the Herzfeld Caribbean Basin Fund -- ticker symbol CUBA -- includes a basket of companies such as Royal Caribbean Cruises Ltd., Seaboard Corp. and Avianca Holdings SA, which would be likely beneficiaries of eased Cuban sanctions.
The Reference Shelf
Before it's here, it's on the Bloomberg Terminal.
LEARN MORE