Debt Ceiling Anxiety Tracker: Wall Street Is Taking No Chances
By , , and
Should you be more nervous than you were yesterday? Possibly

Should you be feeling something a little like panic? Not yet
As investor angst over the U.S. debt ceiling builds with about a month to go before crunch time, Wall Street isn't taking any chances. Key Treasury market industry groups are dusting off plans developed ahead of previous debt-ceiling showdowns in a bid to lessen the potential market disruption should politicians fail to raise America's borrowing capacity in time.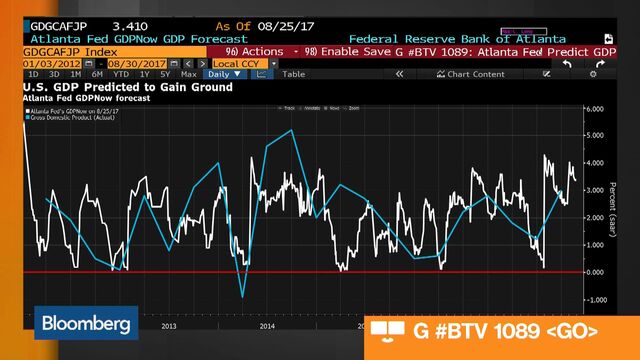 Here are the charts you need to gauge whether you should be more nervous now than you were yesterday. Let's call it the anxiety tracker:
One key monitor is how anxiety is beginning to manifest in shorter Treasury tenors, which mature around the time the U.S. would be expected to run out of money unless there's a debt-limit increase.

Another way to look at it is the spread between one- and three-month bills. That gap has shrunk to around 6 basis points as investors have started demanding higher rates on one-month paper relative to three-month securities in order to compensate for default risk.

Four-week bill auctions may soon see some volatility as they come due within Wall Street's projected early- to mid-October window for when the Treasury will exhaust the extraordinary measures it's been using to stay under the debt ceiling. Bill auction rates have been creeping higher even as supply continues to decline.

Those aren't the only indicators we're watching. The cost to protect against a U.S. default over the next five years through credit-default swaps has risen to about 26 basis points, from 20 basis points a month ago. That means it costs 26,000 euros ($31,000) to insure 10 million euros worth of Treasuries against default. The expense reached 64 basis points during the 2011 debt-limit episode, which resulted in the U.S. losing its top credit rating from S&P.

The Treasury has some large payments to make as it approaches its $19.8 trillion borrowing authority. On Oct. 2, it must account for $118 billion of Medicare, military and interest payments, as well as the settlement of $88 billion of 2-, 5- and 7-year note auctions.

The Department's cash balance has fallen by more than $100 billion since the end of July and has already dropped below its third-quarter forecast included in the borrowing estimates released last month. A smaller cash balance means the government has less of a buffer to pay its bills in case of disruptions in debt markets.

Recent headlines driving the anxiety tracker:
Wall Street, Not Waiting on Mnuchin, Readies Debt-Limit War Room
This T-Bill Sale Is Final Calm Before Debt-Cap Countdown Starts
Treasury Raises Risk of Delaying Auctions as Debt Ceiling Nears
Here We Go Again: Debt Ceiling Impasse Shows Signs of 2013 Redux
Odds of U.S. Technical Default About 15%, T-Bills Curve Shows
— With assistance by Elizabeth Stanton, and Brian Chappatta
Before it's here, it's on the Bloomberg Terminal.
LEARN MORE