UN's Guterres Says Israel Must Cease Settlement Construction
By and
Visits Palestinians in West Bank after meeting with Netanyahu

Pledges commitment to two-state solution for Mideast conflict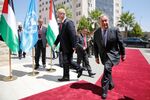 United Nations Secretary-General Antonio Guterres called on Israel to stop settlement construction in the West Bank and pledged his commitment to a two-state solution.
Guterres spoke in Ramallah a day after Israeli Prime Minister Benjamin Netanyahu went to a West Bank settlement 30 miles to the north and said he will never remove any of the more than 100 Jewish enclaves in the territory that Israel captured in 1967. U.S. President Donald Trump has declined to endorse establishing a Palestinian state alongside Israel, saying the two sides must thrash out a solution themselves.
"There is no plan B for the two-state solution," Guterres said Tuesday after meeting Palestinian Authority Prime Minister Rami Hamdallah. "We believe that settlement activity is illegal under international law. It's an obstacle to the two-state solution."
Palestinians have expressed frustration with Trump's approach and are trying to ratchet up international pressure for a settlement freeze, an action Netanyahu dismisses as useless. Last week's visit by the U.S. negotiating team led by Trump son-in-law Jared Kushner left Palestinians impatient for an American plan that might renew peace talks, which have been frozen since 2014.
"They promised to come back in a few weeks with clearer answers," Hamdallah said of the Trump negotiators at a news conference with the UN chief.
Guterres is scheduled to spend the third day of his trip in the Gaza Strip, where he will visit UN facilities but won't meet with its militant Hamas rulers. The group called his planned visit to the territory "unwelcome."
Although he lashed out at the UN on Tuesday for an "absurd obsession with Israel," Netanyahu told Guterres a day earlier that he expects to open a "new page" with the organization. Israel is currently seeking a seat on the Security Council, vying with Germany and Belgium.
The Israeli leader, who is trying to strengthen international alliances, has made several trips to Africa over the past year and is planning to visit Argentina, Colombia and Mexico next month before addressing the UN General Assembly in New York. He has also said Arab states in the Persian Gulf that were once enemies are now cultivating wider ties with Israel.
None of this is likely to impact UN voting patterns that regularly condemn Israel's settlement construction and 50-year occupation of the West Bank, said Jonathan Rynhold, a researcher at the Begin-Sadat Center for Strategic Studies at Bar-Ilan University near Tel Aviv.
"I don't think it's within Israel's ability to change things structurally," he said.
— With assistance by Saud Abu Ramadan
Before it's here, it's on the Bloomberg Terminal.
LEARN MORE