China's Equity-Market Underdogs Could End the Year in Front
Bloomberg News
Mainland shares emerging from offshore-listed stocks' shadow

Eastspring, KGI see A shares taking the lead in coming months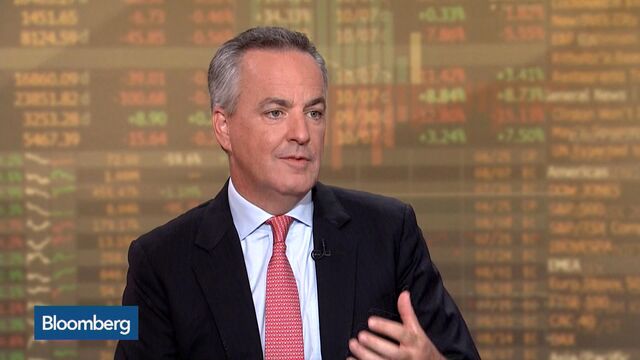 Start your day with what's moving markets in Asia. Sign up here to receive our newsletter.
The also-rans of China's stock rally this year, mainland equities have been overshadowed by the spectacular surge in their offshore-listed counterparts -- until now.
As equities from Seoul to Hong Kong were felled by Tuesday's North Korea-inspired wave of risk aversion, Shanghai was one of the few benchmarks globally to rack up gains, driving home how much has changed in a market that was in the red as recently as two months ago.
Perennially dogged by the higher valuations demanded onshore, mainland stocks came under further pressure in 2017 as Beijing's deleveraging drive and anxiety over the yuan saw Chinese cash head overseas. But those Asia-leading gains have whittled away at the discount that made offshore stocks so enticing, and China's currency is strengthening, a turnaround that's fueling a phoenix-from-the-ashes revival in what is the world's second-largest share market.

The Shanghai Composite Index is neck-and-neck with the offshore-dominated MSCI China Index in August, which retreated Tuesday as its marquee technology members sold off. The valuation gap narrowed to the smallest in almost three years this month, which has some investors calling for mainland stocks, known as A shares, to overtake the offshore market before the year is out.
"The run up in offshore stocks could see them overpriced and people turning to value parts of the market -- that would be small and medium-sized shares on the mainland," Ken Wong, a Hong Kong-based fund manager with Eastspring Investments, the Asian asset-management arm of Prudential Plc., the U.K.'s largest insurer, said in an interview earlier this month. "They've underperformed."
No Correlation
For Wong, it's that failure to keep up that's so appealing. The Shanghai Composite's 8.4 percent advance this year is dwarfed by the MSCI China's 40 percent climb, fueled as it has been by surges in Hong Kong-listed Internet gaming giant Tencent Holdings Ltd. and its e-retailing rival Alibaba Group Holding Ltd., which is traded in New York.
While stocks globally have continued their bull run this year, mainland shares have meandered, and that "lack of correlation," is alluring, said Wong. "People are looking for markets that are less correlated with other markets and A shares fit that picture."
But it's the squeeze in that valuation gap that has Ken Chen, a Shanghai-based analyst at KGI Securities Co., betting A shares will be outpacing Hong Kong-listed Chinese stocks in as little as two to three months. Shanghai equities currently trade at 18 times reported earnings, while the MSCI China's valuation is 17, up from a ratio of 13 at the start of the year.
The market in Hong Kong, where the currency is pegged to the greenback, has benefited from the dollar's drop and "faces greater risks in the near term," Chen said. "Higher valuations, coupled with a possibly stronger dollar if the Federal Reserve shrinks its balance sheet, will trigger a correction."
Read more: Fed Officials Keen to Shrink Balance Sheet Despite Low Inflation
The Hang Seng China Enterprises Index, which tracks Chinese shares listed in Hong Kong, is up 21 percent in 2017.
Analysts surveyed at the start of July, just as mainland stocks were beginning their upward trend, predicted the Shanghai Composite would be steady this quarter, rising 3.1 percent as MSCI Inc.'s decision to include some A shares in its global indexes next year burnished sentiment toward the market.
The specter of China's Communist Party congress -- a twice-a-decade leadership reshuffle and policy powwow expected to be held in the fall -- will also see regulators act to prevent any wild moves in markets, the analysts said.
A main point of access for foreigners to China's mainland markets -- which are dominated by individual investors -- are the stock connects from Hong Kong to Shanghai and Shenzhen. So-called northbound flows, from Hong Kong to the mainland, have been steadily increasing over the past five months, with offshore investors purchasing an average 1.2 billion yuan ($182 million) of mainland stocks a day in August, up from 615 million yuan in March.

The CSI 300 Index, which tracks 300 stocks listed across the mainland exchanges, has gained 15 percent from a four-month low reached in May. Strong earnings from the likes of PetroChina Co. to Ping An Insurance (Group) Co. have helped propel the mainland's recent gains, fueled by the recovery this year in Asia's largest economy and an uptick in commodity prices.
Asian stocks will continue to be supported by the "exceptionally" strong earnings environment, Jonathan Garner chief strategist for Asia and emerging markets at Morgan Stanley Asia Ltd. in Hong Kong. The bank slashed their Shanghai Composite target in May as concerns about deleveraging drove a selloff.
While A shares are likely to outperform their offshore brethren over September and October, China's growth outlook is a wild card, according to Chen Li, an A-share strategist at Credit Suisse Group AG in Hong Kong.
"There's a bit of controversy over China's economic health in 2018 -- I'm concerned about the market toward the year-end as economic growth might slip," he said. "Investors might start to price in that expectation around November to December."
— With assistance by Emma O'Brien, and Amanda Wang
Before it's here, it's on the Bloomberg Terminal.
LEARN MORE