Iron Ore's Kings Are Spending Again
By and
Australia's biggest exporters are adding replacement mines

Rio CEO opens $338 million Pilbara region mine on Wednesday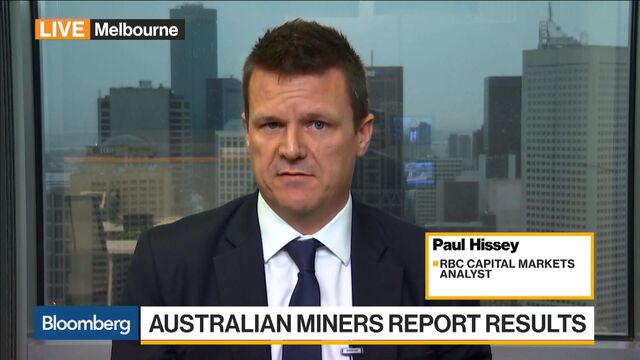 Start your day with what's moving markets in Asia. Sign up here to receive our newsletter.
The biggest iron ore producers in Australia are spending as much as $10 billion on mines so they can keep pumping out shipments to China as demand in their biggest customer shows little sign of easing.
Led by Rio Tinto Group, the nation's top three exporters plan to add about 170 million metric tons of capacity to replace exhausted mines and are studying investments in infrastructure and equipment to boost exports to their long-term targeted rates. Output will rise 9 percent to 843 million tons in 2022, according to Deutsche Bank AG estimates.
Forecasts of a slowdown in China's steel industry are proving to be misplaced with BHP Billiton Ltd. saying production hasn't yet peaked and likely won't do so until the middle of the next decade, while steel-making raw materials will continue performing well over the coming 12 months. Iron ore prices are trading near a four-month high.
Rio on Wednesday opened the $338 million Silvergrass mine, the first of a wave of replacement operations in Western Australia's Pilbara. The asset will help maintain output and cut costs, Chief Executive Officer Jean-Sebastien Jacques said in a statement. Australia will account for 56 percent of the global export market by 2019, from 54 percent last year, according to the government.

London-based Rio, the world's second-largest iron ore exporter after Brazil's Vale SA, has approved $100 million of spending on replacements for depleted operations, and will consider a further $1 billion across the next three years, according to a presentation this month. The producer is also studying $4.4 billion of potential development and maintenance spending, the filing said.
Primary Driver
"We don't have any issues in placing our products," Jacques told reporters at Silvergrass. "As far as we are concerned, the primary driver for us is the margins." Rio's iron unit had a margin on earnings before interest, tax, depreciation and amortization of 69 percent in the first half, filings show.
A restructuring of China's steel sector is boosting demand for higher-quality ore, including from Rio, according to Jacques. "For them to continue to produce the right output, they need to have better quality raw materials, including the grades that we will produce at Silvergrass," he said. Output from the new mine will allow Rio to maintain output of its benchmark Pilbara Blend products, which accounted for 75 percent of first-half sales.

BHP will seek approval next year to spend as much as about $3.2 billion to develop its South Flank mine to replace 80 million tons of annual output. It will also spend about $300 million on work to boost annual capacity in Australia to 290 million tons, Deutsche Bank estimated in a July note.
Spot ore with 62 percent content delivered to Qingdao declined 1 percent to $76.36 a dry ton on Tuesday, according to Metal Bulletin Ltd. Rio Tinto rose 0.2 percent to A$66.70 in Sydney, as BHP advanced 0.3 percent and Fortescue Metals Group Ltd., Australia's No. 3 shipper, slumped 1.8 percent.
New spending by the world's top miners remains a fraction of the amount deployed at the peak of China's demand boom. Rio invested $22 billion between 2009 and 2016 to expand its Pilbara mines and infrastructure, according to a June submission to an Australian government commission.
BHP's View
After this month reporting a jump in profit, BHP CEO Andrew Mackenzie said the miner is more optimistic about China's efforts to reform the economy, which are aiding demand. Iron ore has rallied since mid-June on rising Chinese imports and as producers added to supply at a slower rate than anticipated.
To read a QuickTake on the development of the iron ore market, click here
"We're investing in future production by putting replacement mines in place well ahead of when we need them, and maintaining about 20 years of production inventory," Fortescue CEO Nev Power said last week. The company may spend as much as $1.5 billion on a replacement for its Firetail operation.

Producers may add about 100 million tons to the seaborne market in 2017 and 2018, weighted to next year, Chris Salisbury, Rio's iron ore chief executive, said in a presentation this month. Steel demand in China has proven stronger than mills and traders expected, with a rebound in machinery sales and growth in the auto sector, according to the presentation.
China's steel production has expanded to a record this year, and overseas ore purchases are on course to comfortably exceed 1 billion tons. Strong demand saw spot ore touch $79.93 a dry ton last week, the highest since April.
Before it's here, it's on the Bloomberg Terminal.
LEARN MORE