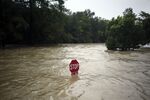 Here's a taste of things to come in global energy markets:

The ongoing disaster of Hurricane Harvey has, of course, led to shutdowns of refineries, oil and gas rigs and other elements of the concentrated, complex network of energy infrastructure that sprawls across the coast and waters of the Gulf of Mexico.
As I wrote here, though, the changes wrought by the shale boom mean the effects on energy markets are more nuanced than a decade ago, when a strong hurricane virtually guaranteed leaping oil and gas prices. Not so today; that blowout in the discount for U.S. crude oil results from a drop in its price while Brent's international benchmark has held steady this month.
This is a harbinger of what future hurricanes are likely to mean for the world's trade in oil and gas.
One of the results of the shale-derived boom in U.S. oil and gas production, coupled with a broad leveling-off in domestic energy consumption, is the country's re-emergence as a source of energy exports.
On the oil side, the U.S. remains a net importer of about five million barrels a day. Still, that is down from more than 12 million a day a decade ago, and the world relies on barrels exported from the U.S. to a much greater degree than it once did:

Harvey's shutdown of ports such as Corpus Christi and, as of Tuesday morning, at least 13 percent of U.S. refining capacity is essentially bottling up some oil that would otherwise be processed or exported. This, along with the suppression of domestic demand amid the devastation, explains the weakness of U.S. crude oil prices and adds a little strength to some international grades like Brent.
Meanwhile, gasoline futures have jumped by 10 percent in the past week. And any U.S. refineries operating in areas outside of the Gulf region, but which rely on supply from there, can expect bigger margins on their own production, at least temporarily. Shares in PBF Energy Inc., based primarily on the East Coast, have risen 13 percent since last Wednesday.
With four-fifths of U.S. petroleum exports consisting of refined products such as gasoline, though, the sharpest impacts will be felt there. Mexico. for example, takes half of America's gasoline exports. 
In the near term, the critical factor for prices will be how quickly U.S. ports and refineries re-open versus how quickly regional demand recovers. Higher gasoline prices could run into seasonally lower demand as summer ends, undermining those higher refining margins, especially if Jones Act restrictions on shipping barrels between U.S. ports were waived temporarily to deal with the emergency (as happened after Hurricanes Katrina and Rita in 2005 and Hurricane Sandy in 2012). Meanwhile, as soon as ports open, barrels able to access them will be shipped to chase (and close) that spread with Brent.
Longer-term, the more dramatic impact of the Gulf's importance to the global energy trade will be felt in natural gas. The shale boom has overwhelmed domestic demand, and the U.S. will soon emerge as a leading source of exports of liquefied natural gas:

Nine-tenths of that U.S. export capacity is sited, or will be, on the Gulf coast. Thus far, the natural-gas market's subdued reaction to Hurricane Harvey suggests the impact of extreme weather on regional demand for the fuel outweighs any disruption to supply. You can see below how power generation has slumped in Texas as a result of plant outages, industrial customers shutting down, and cooler weather blunting demand for air conditioning:

In the future, therefore, the usual hurricane impact will be turned completely on its head. Rather than sending domestic prices soaring, it will likely keep a lid on them as demand suffers and the outlet of exports gets closed temporarily. Instead, gas prices in markets stretching from Europe to Asia should rise to compete for LNG cargoes as the U.S. goes offline, increasing the spread just as we are seeing today with crude oil benchmarks.
The unfortunate corollary of America's resurgent role in the energy trade will be the transmission of hurricane season's risks to the rest of the world.
Before it's here, it's on the Bloomberg Terminal.
LEARN MORE