Here's Why the Yen Remains a Safe Haven After a Rocket Passes Over Japan
By
Size of Japan's foreign assets trumps its proximity to Korea

The prospect investors will repatriate funds is key to status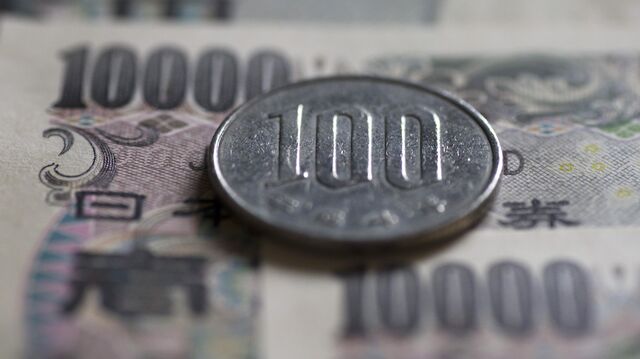 Start your day with what's moving markets in Asia. Sign up here to receive our newsletter.
Just why do investors flock to the yen in times of trouble, even when the trouble is on the Korean peninsula?
That question gained added relevance on Tuesday as the currency once again performed a post-North Korea provocation rally. The yen hit the highest since April, surging with safe-haven assets including U.S. Treasuries, gold and the Swiss franc after Kim Jong Un's latest ballistic missile test. The gains were all the more impressive because the rocket flew directly over Japan. 

The explanation for the yen's attractiveness appears to be a combination of factors, chief among them the size of Japan's foreign assets. They trump proximity to Pyongyang in the eyes of investors because, at times of tension, funds may be repatriated. That in turn would spur currency gains.
Japan's net foreign asset position is "very, very significant," according to Mitul Kotecha, head of Asia FX & Rates Strategy at Barclays Plc. The yen is therefore "always going to have this safe-haven bid when you do see bouts of risk aversion," he told Bloomberg TV's Betty Liu in an interview.
Japanese purchases of foreign debt tripled to 4.46 trillion yen ($40.4 billion) in July, the most in a year, according to figures from the finance ministry. With $1.09 trillion of Treasuries as of June, the nation is the largest overseas holder of the securities after China, according to the U.S. government.
Internal Crisis
The yen's proven historical performance at times of global risk may also be a factor. Alongside Treasuries, the currency is the strongest "safe-haven" investment in periods of excessive volatility, according to a study in last November's edition of Financial Markets and Portfolio Management.

It's even displayed a tendency to strengthen at times of internal crisis. After the Tohoku earthquake and tsunami in 2011, the currency rose on expectations insurance companies would repatriate large amounts of foreign assets. The actual inflows were relatively limited, Citigroup Inc. strategist Jamie Fahy said in a note in May.
Meanwhile, the yen's use as a funding currency is the key for Marc Chandler, global head of currency strategy at Brown Brothers Harriman & Co. in New York. In this type of trade, investors typically borrow in a low-yielding currency, sell it and use the proceeds to buy higher-yielding assets. Geopolitical tension can encourage them to unwind their trades, and this involves buying the funding currency, he wrote in a note.
"On a purely directional basis, the dollar-yen exchange rate has become highly correlated with both the S&P 500 and the Dow Jones Stoxx 600," Chandler said. "This is what one would expect to be the case if the yen was used as a funding currency."

The currency's relative valuation may also enhance its appeal, according to Barclay's Kotecha.
"The yen is a cheap currency," he said. "That also helps it gain in these environments where we do see risk aversion continuing to intensify."
Before it's here, it's on the Bloomberg Terminal.
LEARN MORE