Maduro Now Owns Venezuela's Economy—and Its Collapse
By and
Maduro struggles to control economy after quelling protests

GDP expected to shrink 12% in 2017 as inflation skyrockets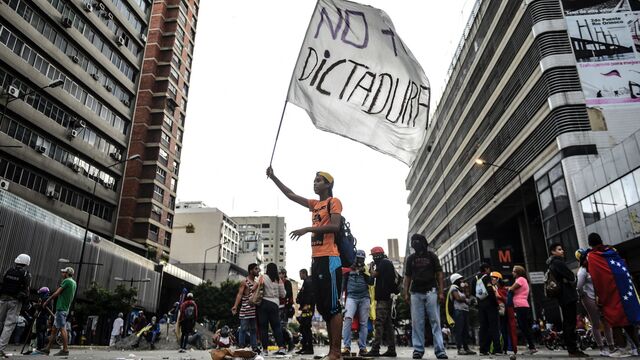 Venezuela's socialist regime has consolidated near-total political control after installing an all-powerful constituent assembly. Resolving the economic crisis and coming up with $3.5 billion for bond payments through November however will prove trickier.
President Nicolas Maduro has thrived in the face of vicious street demonstrations, talk of military force by the U.S. and several rounds of sanctions. His new constituent assembly is bypassing congress and is expected to start rewriting the nation's charter this week. But the end result may be that Maduro has sole ownership of the once-rich nation's terminal financial collapse.
Maduro has been hunting for new financial lifelines in Russia as he's slashed imports, called in debts and sold or mortgaged assets at a deep discount. As of July 31, the government had amassed $2.8 billion for its November payments, according to Caracas-based consultancy Ecoanalitica.

Reneging on debts could deepen the country's cash squeeze and creditors could snatch up Venezuela's assets abroad -- everything from refineries, to oil tankers and gas stations -- further undermining its ability to export.
Beyond this year, however, director Asdrubal Oliveros was skeptical the government could make good if it continues to alienate investors and regional leaders. "The government remains trapped in the same dynamic," he said. "It's sustaining an unsustainable system."
Debt Sanctions
The noose keeps tightening. Last week, the Trump administration barred trading of new debt issued by the Venezuelan government and state oil company PDVSA, and blocked dealing in some existing bonds owned by the country's public sector. The ban is meant to keep Venezuelan government entities from selling bonds into the secondary market.

As Venezuela has become economically isolated, inflation has spiked and the nation has been wracked by shortages of everything from car parts to basic medicines. Infant mortality and diseases like malaria have soared, while shaky services and unreliable food programs have fueled violent unrest among those once loyal to Maduro and his mentor, the late Hugo Chavez.
Venezuelans like Adriana Rangel, a 39-year-old secretary, now throng cash machines daily as withdrawals are limited to only a few dollars. Waiting in a bank line in an east Caracas business district, Rangel complained that she lost hours to the routine each week.
"All this sacrifice, just to watch the money disappear from your hands moments later," she said.
Maduro has been vague about how he will improve Venezuela's penury.
'Yankee Imperialism'
Since taking the helm after Chavez's death in 2013, Maduro, 54, has insisted that his country's woes aren't the result of bad policy, rather an offensive waged by adversaries of his leftist government. He has refused to unwind rigid economic controls enacted by his predecessor even as the price of oil, Venezuela's lifeblood, has slumped.
Daniel Lansberg-Rodriguez, who teaches at Northwestern University's Kellogg School of Management, says that Venezuela, squeezed out of capital markets, has become increasingly reliant on Russia as key allies such as China have grown hesitant to grant more credit.
"There is shift a from one eastern benefactor to another," he said. "The money that comes in from Russia has far fewer strings attached.''
Since 2014, Russia and its largest oil producer, Rosneft, have provided Venezuela with more than $10 billion in credit through direct loans and the purchase of crude oil in advance. Last week, Maduro hinted he may be tapping his Russian counterpart, Vladimir Putin -- whom he referred to as the world's principal leader -- for even more financing, saying he would visit Russia soon to discuss accords.
Soaring Prices
Still, Moscow's aid hasn't been enough. Venezuela's ruling socialists have turned to printing money to maintain spendthrift policies. The nation's money supply increased almost 30 percent in July alone, according to data compiled by Bloomberg, pushing prices even higher.
Last month, the price of the dollar skyrocketed on the black market, which is increasingly used to keep the import-dependent economy afloat. While greenback prices have since ebbed, many business owners gripe they can't slap price tags on merchandise fast enough.

"If someone came into my store and offered to buy everything, I'd sell it all at a discount," said Samir Ramirez, 47, the owner of home furnishings shop in east Caracas. "What you see on the shelves is a loss. Every day, I'm losing money."
Jose Manuel Puente, an economist at the Institute of Advanced Studies in Administration in Caracas, said Venezuela could be approaching hyperinflation. While the central bank has kept silent on key indicators, the International Monetary Fund expects the economy to shrink for a fourth straight year -- by 12 percent in 2017. Meanwhile, prices have increased 649 percent on an annual basis, according to Torino Capital Estimates.
Read more: Why Venezuela works so hard to avoid default: QuickTake Q&A
"It's impossible to have a coherent macroeconomic policy while internal politics are in chaos," Puente said.
Harold Trinkunas, an expert on Venezuela at Stanford University, said a financial collapse could have serious ramifications for the entire region. "It's not just the oil anymore," he said. "It's the humanitarian aspect."

Already an estimated 2 million Venezuelans have left over the past 18 years. Experts worry a default could send even more fleeing across the borders.
Last week, the constituent assembly formally sidelined the opposition-led National Assembly, granting itself the ability to pass laws on everything from national security, economic policy and finance. Delcy Rodriguez, the legislative super body's president, said the measure was needed to ensure the country's well-being.
"Politics are the priority," said Oliveros. "The government is caught in a situation where it must perpetuate itself in power at whatever cost."
— With assistance by Ben Bartenstein
Before it's here, it's on the Bloomberg Terminal.
LEARN MORE