Bond, Dollar Traders Won't Let Missiles Distract Them From Fed
By , , and
Market is focused on week's key data to gauge rate-hike odds

'Tough to get much lower' yields, Charles Schwab's Jones says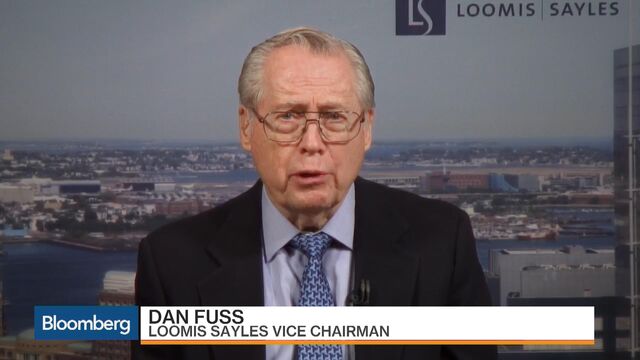 North Korea's latest missile launch may have ratcheted up geopolitical tensions to a new level, but for bond and currency traders, the primary focus is still on U.S. monetary policy.
Sure, 10-year Treasury yields sank to the lowest this year on Kim Jong Un's provocation, while the dollar touched the weakest level since January 2015. But the episode may wind up being more of a distraction for traders, with crucial U.S. inflation and labor data ahead that could dictate the path for the Federal Reserve and financial markets for months to come.
What it boils down to is that it's still all about the Fed, and whether it will keep tightening even as job-market strength has failed to boost inflation to policy makers' 2 percent target. The odds of another rate hike by year-end are dwindling by the day, to 28 percent, from 42 percent two weeks ago. That trend could gain confirmation or turn on a dime by week's end, with the central bank's preferred inflation measure due Thursday, followed by payrolls Friday.
"For the bond market, it's really about the inflation prospects," said Kathy Jones, chief fixed-income strategist at Charles Schwab & Co. For 10-year yields, "we've been saying all year a 2-2.5 percent range -- it's going to be tough to get much lower unless we get evidence of weaker growth and less inflation than we think."

Price swings Tuesday drove home the challenge of trading off events such as the missile that flew over Japan. 
Ten-year Treasury yields touched 2.08 percent, the lowest since Nov. 10, then rebounded to 2.13 percent. The dollar fell as much as 0.9 percent against the yen, then recovered to post a modest gain.
Policy Puzzle
Traders are looking to the data to help them sort out Fed policy after September, when it's seen as a near-lock that officials will announce the start of balance-sheet tapering. The key question is whether the economy will warrant a third 2017 rate hike, potentially in December. A clear picture may not be attainable for weeks, as lawmakers in Washington deal with a potential fight to raise the debt ceiling while also trying to avert a government shutdown.
"The Fed has remained committed to policy normalization," said Valentin Marinov, head of G-10 FX strategy at Credit Agricole in London. "After the end of September, investors will be able to better put political risks on the side and focus on dollar fundamentals that are actually starting to improve coming out of a soft patch."
The dollar may not be out of the woods just yet. Wall Street has dim expectations for the latest read on the economy. 
The personal consumption expenditures price index probably rose 1.4 percent year-over-year through July, according to a Bloomberg survey, leaving it below 2 percent for a fifth straight month. Employers likely added 180,000 non-farm jobs in August, the fewest since May.
Consensus Questioned
The Fed "is within a few hikes of reaching a neutral federal funds rate given the low growth/low inflation environment in the U.S.," Adnan Akant, head of currencies at BNP Paribas Asset Management, which manages $646 billion, wrote in a research note. "We expect the themes which undermined the U.S. dollar so far this year to continue for some time."
That view is against consensus. The dollar will rebound to 113 yen by year-end, from about 109.60 now, according to a Bloomberg survey.
For Treasuries, the median of forecasts collected Aug. 10-25 is for 10-year yields to climb to 2.57 percent by the end of 2017, close to the highest level of the year. That's down from a 2.74 percent forecast in January, when traders expected the Trump administration to usher in tax cuts, infrastructure spending and deregulation.
"Expectations for any policy move this year must be low -- we've seen virtually nothing happen," said Charles Schwab's Jones. Yet that seems to be priced in. For the dollar and yields, "there's more risk to the upside given where we are."
Before it's here, it's on the Bloomberg Terminal.
LEARN MORE