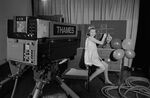 Even in a summer of television hits like "Game of Thrones" and "Poldark," Europe's broadcasters still fall back on repeats. This year's family favorite looks like the profit warning.
On Monday, German broadcaster ProSiebenSat.1 Media SE followed advertising agencies WPP Plc and Havas SA with its own. It expects third-quarter sales at its domestic unit will decline by a mid-single digit percentage instead of rise. As recently as July, the company had said the market was improving.
The shares fell as much as 15 percent, sparking a sell-off in other European TV groups -- a repeat of how WPP's surprise warning dragged down the media sector last week.

While the issues facing ad agencies and TV broadcasters are different, both are under pressure from the rise of the Internet, not only as a pastime drawing people away from TV but also as a powerful marketing medium. Advertising dollars are migrating away from print and television and into online, minting winners like Google and Facebook and goring old media.

None of this is new. Investors have been debating how these structural pressures will affect media companies for years. The optimists argue that savvy well-managed ones can adjust and thrive, while pessimists say the ripple effects from our collective smartphone obsession will kill television and cripple the ad agencies.
There are elements of truth on both sides, and it's pretty hard to spot a tipping point when you're in the midst of deep change.
But some clearly think the situation has rapidly worsened based on what companies reliant on marketing dollars are saying. The question is whether the structural challenges are getting unexpectedly worse or whether there's a more benign explanation. One of those possible reasons: consumer and packaged goods makers, such as Procter & Gamble Co. and Unilever Plc, the two largest advertisers globally, have sharply curbed marketing spend lately to cope with weak growth. That has a knock on effect on ad agencies and TV broadcasters.
Figuring out whether the pain is a short-term blip or structural will take some time. Consumer goods companies have said they plan to spend more in the second half. Another big Germany broadcaster, RTL Group, SA reports earnings on Wednesday and could shed light on what's going on in the country. 
With European media down 10 percent this year -- the second-worst performing sector this year after oil and gas -- investors are clearly easily spooked. They have every reason to be watching from behind the sofa.
Before it's here, it's on the Bloomberg Terminal.
LEARN MORE