Stocks Recover as North Korea Apprehension Eases: Markets Wrap
By and
Yields on benchmark Treasury 10-year notes drop to year low

Gasoline climbs for a sixth day as Harvey regains strength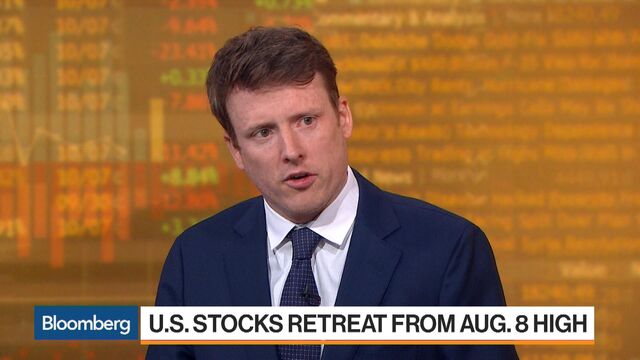 U.S. stocks rebounded from losses sparked by North Korea's firing of a missile over Japan as investors speculated the event wouldn't lead to a wider conflagration. The S&P 500 Index's reversal was the biggest turnaround since the day after the November election.
"North Korea uncertainty is translating into a weaker dollar and lower rate hike expectations, but not necessarily a change in economic backdrop," said Dennis Debusschere, head of portfolio strategy at Evercore ISI. "So the S&P benefits from the combination of a weak dollar, lower rate hike expectations and steady economic growth."
Yields on benchmark 10-year Treasuries fell to the lowest this year and the dollar touched the weakened level since January 2015 before recovering. Gold reached a 2017 high, while the Swiss franc was one of the best-performing major currencies. Gasoline advanced for a sixth day as Tropical Storm Harvey picked up strength again after inundating refineries along the Texas coast.

Japan called Kim Jong Un's latest provocation an "unprecedented, grave and serious threat," and asked the United Nations Security Council to hold an emergency meeting, while President Donald Trump said the U.S. will consider "all options" in the its response. The missile seems likely to reignite the simmering tension between North Korea and the U.S. just days after Secretary of State Rex Tillerson praised the nation for its "restraint."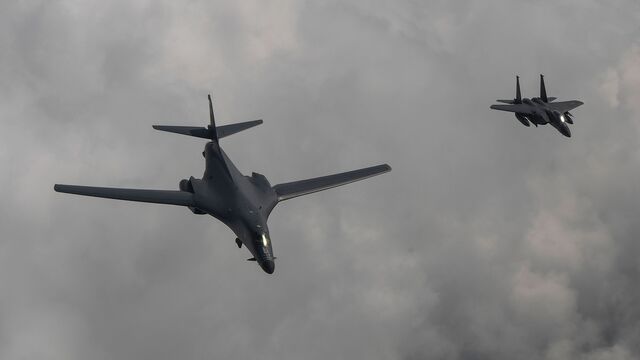 "The market is in a range here and people are willing to buy on the dip," Donald Selkin, chief market strategist at Newbridge Securities Corp. said. "The fact that Trump's comment is a little bit moderating was helpful."
Terminal subscribers can read more on our Markets Live blog.
Among other key events looming this week:
Inflation data from the euro zone's largest economies this week may show prices nudged up in August.
Japan releases figures for the industry on Wednesday.
Australia is due to publish data on Wednesday detailing construction work done.
The U.S. updates second-quarter GDP and core price data on Wednesday, and reports on August payrolls on Friday.
And here are the main moves in markets:
Stocks

The S&P 500 Index rose 0.1 percent to 2,446.30 as of 4:06 p.m. in New York
The Dow Jones Industrial Average gained 0.3 percent to 21,865.24, while the Nasdaq Composite Index rose 0.3 percent to 6,301.89.
The U.K.'s FTSE 100 Index declined 0.9 percent on the biggest drop in almost three weeks on a closing basis.
Germany's DAX Index decreased 1.5 percent, after touching the lowest in six months
Currencies
The Bloomberg Dollar Spot Index rose 0.2 percent after dropping to the lowest in more than two years.
The euro was little changed at $1.1968, after touching the strongest in almost three years.
The Swiss franc was little changed at $0.9556, after climbing to the strongest in about two years.
Bonds
The yield on 10-year Treasuries declined three basis points to 2.13 percent, after dropping as low as 2.08 percent, the least in 10 months.
Germany's 10-year yield decreased three basis points to 0.34 percent, after touching the lowest in two months.
Commodities
West Texas Intermediate crude fell 0.5 percent to $46.36 a barrel.
Gold increased 0.1 percent to $1,309.03 an ounce, after reaching the strongest level in 11 months.
Gasoline for September delivery rose 5.4 percent to $1.8051 a gallon after climbing 2.7 percent on Monday.
Asia
Japan's Topix index closed 0.2 percent lower after falling as much as 0.7 percent, while South Korea's Kospi index lost 0.2 percent, paring a drop of as much as 1.6 percent. The S&P/ASX 200 Index in Sydney declined 0.7 percent. Hong Kong's Hang Seng Index fell 0.4 percent, while the Shanghai Composite Index fluctuated before edging higher.
Thailand's SET Index bucked the main trend, rising 1.8 percent. Concern about political violence has eased, according to CLSA.
The won weakened the most in two weeks.
— With assistance by Luke Kawa, and Katherine Greifeld
Before it's here, it's on the Bloomberg Terminal.
LEARN MORE