Here's Why the Mexican Peso's Rally May Be Over
By
Peso drops 1.2%, overshadowing EM, regional currencies

Bullish peso contracts are still near a four-year high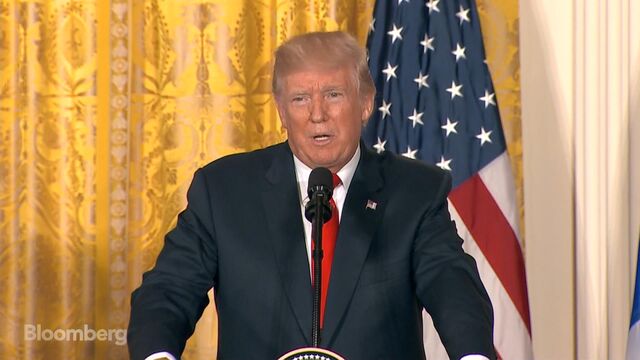 The Mexican peso's reaction to tweets by U.S. President Donald Trump on Nafta and the border wall could signal that the currency has little room left to gain, according to BlackRock Inc. and Citigroup Inc.
The peso fell 1.2 percent, leading losses among major and emerging-market currencies on Monday after Trump tweeted that both Mexico and Canada were being "difficult" during the current renegotiation of the North American Free Trade Agreement. He also insisted that Mexico would pay for a border wall.
While Trump's past tweets sent the peso tumbling, they had begun losing steam in recent months. This time the drop could signal an end to this year's 16 percent jump, the strongest currency rally in the world, and put pressure on traders who are still holding bullish positions on the peso.
"Trump's tweets have had less and less of an impact," said Gerardo Rodriguez, an emerging-market money manager at BlackRock Financial Management Inc. in New York. "But this came after an almost 20 percent appreciation of the peso. The dollar has been falling too and both these trends are changing."
Markets are heavily positioned long peso, with bullish contracts on the currency near a four-year high, according to data by the Commodity Futures Trading Commission. The yield on the benchmark sovereign peso-denominated bond, known as Mbono, rose 0.5 percent - the most in over a month - while the country's stock index dropped 0.5 percent. The peso traded as low as 17.8092 per dollar.
"We are entering a phase of the market where the potential for further gains going forward is much smaller," Rodriguez said.
Citigroup currency and rates strategist Dirk Willer said his recommendation is to keep Mexican assets underweight in their emerging-market portfolio. The bank sees the peso weakening to 18 pesos per dollar by the end of the year, and to 18.20 by the end of the first quarter.
Traders are adjusting their positions, he said from New York. "And it's accelerating today."
Before it's here, it's on the Bloomberg Terminal.
LEARN MORE