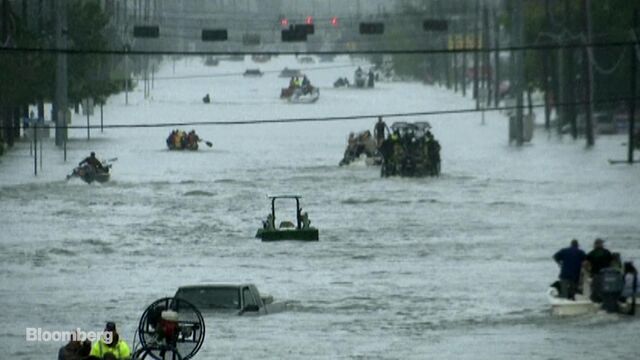 It took a cataclysmic storm and many, many billions of dollars' worth of water damage for people to notice that the National Flood Insurance Program is running a deficit of more than $25 billion. The U.S. government is generally on the hook for the bulk of flood-insurance claims; Hurricane Harvey's costs are expected to mount to tens of billions of dollars in Texas. The insurance program has become a political hot potato.
1. Why's the program an issue?
The NFIP is about to expire on Sept. 30. That means weeks after Congress comes back from its August recess, lawmakers will have to decide the program's fate. President Donald Trump's America First budget had called for funding cuts for the NFIP to "ensure that the cost of government services is not subsidized by taxpayers who do not directly benefit" from the effort. Chris Christie, the Republican New Jersey governor and Trump supporter whose state was battered by Superstorm Sandy in 2012, has said in a local television interview that slashing the budget could be a bad idea, though much of the costs could be shifted to the private sector.
2. How does flood insurance work?
It's overseen by the Federal Emergency Management Agency, which can borrow funds from the Treasury Department. Insurers like Allstate Corp., Farmers Insurance Group and Hartford Financial Services Group Inc. sell the coverage with the tab ultimately going to the government. The amount you pay depends on the type of plan you buy, and whether you choose to insure property as well as belongings. When you buy a policy, there's a 30-day window before it goes into effect. Many banks demand coverage in flood-prone areas, and sometimes even in lower-risk neighborhoods, before granting a mortgage.
3. What's wrong with the program?
It's "actuarially unsound," with the amount of premiums collected much smaller than the claims paid out, according to analysts at Bloomberg Intelligence. "With Harvey sure to bring billions in claims, a proposed six-year extension of the NFIP would only add to its losses." The Government Accountability Office doesn't believe the program will generate enough funds to pay back Treasury for previous storm costs.
4. Has this been an issue before?
Yes, pretty much every time there's a hurricane. The NFIP paid out about $16.3 billion for Hurricane Katrina in 2005 and $8.4 billion for Superstorm Sandy in 2012, according to the Insurance Information Institute. That same year, a law called the Biggert-Waters Flood Insurance Reform Act spurred rate increases that caused some home prices across coastal regions to tumble.
5. Why's the government in the flood-insurance business?
Because private insurers bowed out. After Mississippi River floods in 1927, insurers largely stopped offering flood policies. States increasingly turned to the federal government for disaster relief. After Hurricane Betsy clobbered Louisiana in 1965, Congress was spurred to create the NFIP as part of the National Flood Insurance Act of 1968. The flood program is now housed under the U.S. Department of Homeland Security.
6. What do lawmakers want?

It's a rare issue where many Democrats and Republicans are in accord. Many lawmakers want changes such as expanding the role of private insurers, buying more reinsurance (which is a backstop to primary coverage), and allowing it to become easier for homeowners to relocate from flood-prone regions.
7. What do insurers want?

Industry groups have been advocating for development of a private market for flood insurance in a move to increase competition and options in the sector. Some companies believe they'll be able to underwrite the risks better using data, analytics and other technologies. The Property Casualty Insurers Association of America argues that expanding offerings could benefit consumers. The private market has started to play more of a role in the program, with the NFIP tapping reinsurers such as Swiss Re AG, Munich Re and Alleghany Corp.'s Transatlantic Re to provide backstop for flood insurance.
8. What happens to Texas?

The state has the second-largest amount of NFIP "insurance in force" at $161 billion -- the value of policies outstanding -- with affected regions exceeding $105 billion, according to Bloomberg Intelligence. But many people may be uninsured. As of April, fewer than one-sixth of homes in Houston's Harris County had federal coverage, according to insurance broker Aon Plc. That would leave more than 1 million homes unprotected in the county, and coverage rates are similar in neighboring areas.
The Reference Shelf
Before it's here, it's on the Bloomberg Terminal.
LEARN MORE