Balance of Power: Harvey Tests Trump's Leadership
By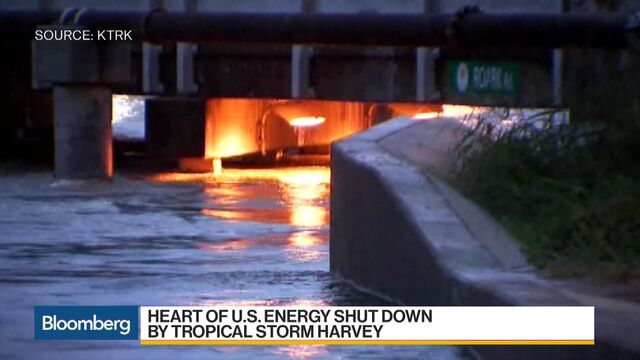 Former White House chief of staff Rahm Emanuel once famously said, "You never want a serious crisis to go to waste." President Donald Trump has been heeding that advice in the aftermath of Hurricane Harvey, in ways both presidential and purely political.
Trump seemed to sense the storm was a chance for him to show some presidential-style leadership. He received video conference briefings, tweeted frequent updates and plans to visit Texas on Tuesday. Best of all for Trump, the Federal Emergency Management Agency — the agency most blamed for botching the reaction to Hurricane Katrina that so damaged George W. Bush's presidency — has largely stayed out of the headlines.
But Trump couldn't resist using the storm to provide cover for a controversial decision. He announced a pardon of Arizona sheriff Joe Arpaio, an immigration hardliner convicted of criminal contempt, just hours before the storm made landfall Friday night. House Speaker Paul Ryan and other Republicans said flatly they disagreed with the decision.
Even if Trump ultimately gets good marks on Harvey, Democrats won't soon let him forget the Arpaio pardon — or miss any chance they get to remind the Latino voters they so desperately need to win in 2018 and 2020.

Sign up to receive the Balance of Power newsletter in your inbox, and follow Bloomberg Politics on Twitter and Facebook for more.
Global Headlines
Taking stock of the damage | Harvey crippled the core of the U.S. energy industry, halting about a quarter of oil and natural gas production in the Gulf of Mexico. Gasoline futures surged to a two-year high, a sign the damage may have sweeping repercussions for other parts of the country that rely on Gulf Coast supplies. One way or another, the consequences will be felt for a very long time. Click here to view a selection of photos cataloging the devastation. 
Trump's tax push | The president is preparing to get Americans fired up to rewrite the U.S. tax code, even though there's no actual Republican plan. Trump is leaving the details to congressional tax-writing committees, a risky gamble after he attacked key GOP lawmakers and threatened a government shutdown over his border wall. Republicans worry Trump may be paving the way for a repeat of the failed Obamacare repeal.
Pakistan says Trump will fail | The president's strategy on Afghanistan won't work because it focuses on boosting troop numbers rather than a political settlement, Pakistan's new Prime Minister Shahid Khaqan Abbasi told Ismail Dilawar and Faseeh Mangi. While Trump has accused Pakistan of harboring Taliban militants and said it isn't doing enough to resolve the long-running war over its border, Abbasi said the Afghan government should be "owning" the issue and dealing with the Taliban. 
China-India standoff ends | The Asian giants ended a military face-off in a remote area of the Himalayas today, with both seeking to portray the development as a victory. The de-escalation, which paves the way for Indian Prime Minister Narendra Modi to attend a summit of BRICS leaders in China next week, is seen as only a temporary respite in tensions between the nations. 
Guatemalan instability | The crisis in Central America's biggest economy worsened yesterday as two cabinet members resigned and protesters gathered in front of the National Palace. President Jimmy Morales, who's being investigated for illegal campaign financing, tried to expel the head of an anti-corruption body, only to see his bid blocked by a court. "We have entered a new chapter of political instability," former Vice President Eduardo Stein tells Michael McDonald.
Past haunts France | President Emmanuel Macron's challenges are mounting as he seeks to make good on campaign pledges to review labor laws and drag the French economy into the 21st century. But, as Helene Fouquet and Ania Nussbaum report, while he aims to reinvent France as a start-up nation, it's his ability to deal with the industrial past that may shape his legacy.
And finally… One of the world's low-tax regimes is slowly relinquishing that title as sluggish oil prices hit state coffers. The United Arab Emirates issued a decree yesterday slapping a 5 percent value-added tax on goods and services from January, after approving a "sin tax" that will raise prices on tobacco and soft drinks. Will a dreaded income tax — the first in the Gulf — be far behind? Authorities say they have no plans. For now. 

— With assistance by Zainab Fattah, and Michael Winfrey
Before it's here, it's on the Bloomberg Terminal.
LEARN MORE