Samsung Heir Joins Chaebol Shame List With Bribery Conviction
By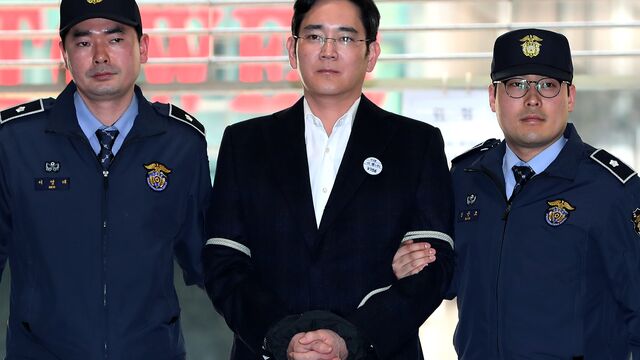 The conviction of Jay Y. Lee, heir apparent at Samsung, has seen the 49-year-old join a lengthy list of executives from South Korea's chaebol to run afoul of the law.
It's a list that includes his father, along with men behind conglomerates including Hyundai, SK and Hanwha.
Lee was convicted of bribery, perjury and embezzlement and handed a five-year prison sentence after a six-month trial for his role in a scandal that helped bring down former President Park Geun-hye. The vice chairman of Samsung Electronics Co. was accused of paying bribes to a confidante of the then-South Korean leader to get government backing for a merger of affiliates that tightened his grip on the smartphone maker. He has consistently denied wrongdoing and his lawyers said he would appeal.

While in the past convicted executives were often pardoned, the new administration of President Moon Jae-in was swept into power on pledges to reshape the country to benefit individual Koreans. That includes higher taxes and regulation of the chaebol that dominate the nation's corporate landscape.
While Samsung Electronics and other companies in the conglomerate have their own management teams who take care of day-to-day operations, Lee has served as de facto head of the chaebol since his father was hospitalized in 2014 after a heart attack. The Lee family controls Samsung through a web of cross-shareholdings.
Since Lee's arrest and detention in February, Samsung Electronics shares have reached an all-time high and its earnings have risen to a record.
Here are some notable chaebol cases:
Read this: QuickTake on South Korea's chaebol.
Before it's here, it's on the Bloomberg Terminal.
LEARN MORE