After Board Coup, Infosys Chairman Nilekani Seeks to Calm Tumult
By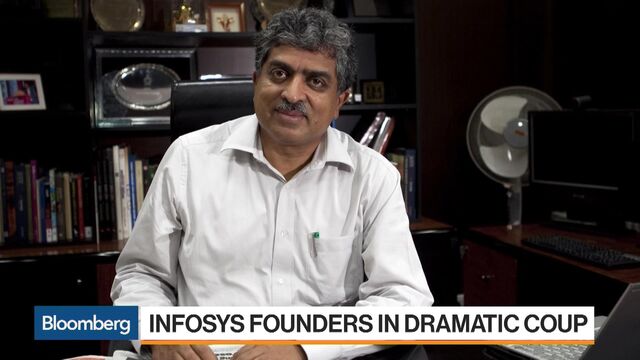 Infosys Ltd. Chairman Nandan Nilekani moved to reassure investors and employees after a dramatic coup by the firm's founders Thursday night in which they ousted four directors and took back control of the troubled Indian outsourcing company.
"I want to put this company on the right stable path," Nilekani, 62, said in a hastily arranged conference call. "I plan to be here as long as necessary and work as hard as necessary."
The founders, led by N R Narayana Murthy, made their move to seize control after clashing with the board in recent months over the company's performance, corporate governance and the compensation of former Chief Executive Officer Vishal Sikka. The ex-CEO stepped aside just seven days ago at an unusual press conference in which he fired back at the founders for making his task impossible. The board at the time also openly criticized Murthy for interfering with management.
Nilekani explained in the press conference the board had held a meeting late Thursday to discuss the changes after the founders had solicited support from investors. The chairman said he was focused on several key tasks -- finding a new CEO, reconstituting the board and stabilizing the company's operations. He wants to leave as soon as those goals are fulfilled, he said. Infosys has a broad pool of candidates to take on the CEO job and aims to make a final decision in the coming weeks.
"I will focus my attention on the future of the business and customer needs, and show demonstrable progress," Nilekani said. "If you are able to deliver, everything else pales into insignificance."
Reboot's Over, Infosys. It's Time to Repair and Rebuild: Gadfly
Infosys shares, which tumbled after Sikka's resignation, showed signs of stabilization. Its ADRs rose 1.2 percent in U.S. trading after the announcement of a new chairman.
"Nandan can weave much needed magic and he is abreast with technology shifts needed for Infosys to go into the digital world," said Chakri Lokapriya, Mumbai-based managing director at TCG Asset Management, which oversees about $3 billion of assets.
Earlier this year, the founders wrote to the board asking why Sikka's compensation had been increased and also questioned severance packages offered to two high-level executives who had left the company. While the billionaire founders and their cohort hold only about 13 percent of the shares in Infosys, they have disproportionate influence because of their high-profile status.
With pressure mounting, Sikka quit last week as CEO, saying that the attacks were taking "a personal toll on me and the company." Despite presiding over 25 percent sales growth since joining Infosys from SAP in 2014, he failed to manage the expectations of the Indian company's founders. On Thursday, Sikka resigned his board seat, along with Jeffrey Lehman, John Etchemendy and R Seshasayee, who had been chairman.
It now falls upon Nilekani to steer Infosys through the challenges ahead. The company confronts seismic changes in the industry it helped pioneer. Growth in the technology services business has slowed amid rising competition and automation. Infosys and its peers also get most of their revenue from the U.S., where the Trump administration is changing policies they have used to service clients.
"Investors will view Mr. Nilekani's return with some relief. That said, we believe it will be short lived as there are too many structural headwinds facing the company," said Anil Doradla, an analyst with William Blair & Co.
Infosys Fight Isn't Tata Redux. It's a Lot Worse: Gadfly
Nilekani, who ran the company as chief executive for five years until 2007 before becoming co-chairman, said he had no intention of taking over the CEO post. He left Infosys in 2009 to join the government to lead the rollout of India's biometric identity program, Aadhaar.
"The big problem is the bulk of what Infosys does is commoditized work," said Anurag Rana, an analyst at Bloomberg Intelligence. "How well it works will depend on how aggressive the new leadership becomes in adopting emerging technologies. All the other problems -- the spending, the jets, is just noise."
Before the board meeting, representatives of Infosys investors including Franklin Templeton and HDFC Asset Management Co. had called for Nilekani's return. "The recent developments are very concerning to each of us," the group wrote. They said Nilekani's return would restore the confidence of stakeholders including customers, investors and employees and also "facilitate the resolution of contentious issues."
Infosys certainly has the market's attention. The conference call Friday brought in a record 600 analysts.
"I can assure you this will be a very strong company," Nilekani said. "All my life, I have been a consensus builder."
— With assistance by Sarah Frier, and P R Sanjai
Before it's here, it's on the Bloomberg Terminal.
LEARN MORE