ECB Could Use Neymar Effect to Smooth QE Exit, Commerzbank Says
By
Central bank seen moving toward tapering asset purchases

Higher soccer player prices could appease markets: Commerzbank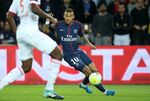 The European Central Bank is facing a conundrum: how to communicate a slowing in its buying of euro-area government bonds without upsetting markets. The answer may lie in Qatar paying about 220 million euros ($260 million) for the world's most expensive soccer player, Neymar Da Silva Santos Jr., according to Commerzbank AG.
The "Neymar-effect," the huge amount of money paid for one footballer being injected into the transfer market appearing to result in higher prices for other players, should be stressed by the ECB in relation to its quantitative-easing program, said Christoph Rieger, the German bank's head of rates & credit research. By emphasizing the continuing stimulative impact of its stock of holdings on asset values, rather that the monthly flow of purchases, the central bank can appease market concerns when it announces tapering, he said.

"The QE impact can be felt even if no new money is being injected. It's the stock of money that is in the system, which causes further portfolio rebalancings, keeping asset prices elevated even when no new net purchases are taking place," Rieger said. "The ECB should be stressing this because they don't want the end of net purchases to be seen as monetary tightening."
Before it's here, it's on the Bloomberg Terminal.
LEARN MORE