Secrecy Surrounding Plan to Trim U.S. Monuments Spurs Suspicions
By
No national monuments will be eliminated, Interior chief says

Details of Interior's proposals to Trump not released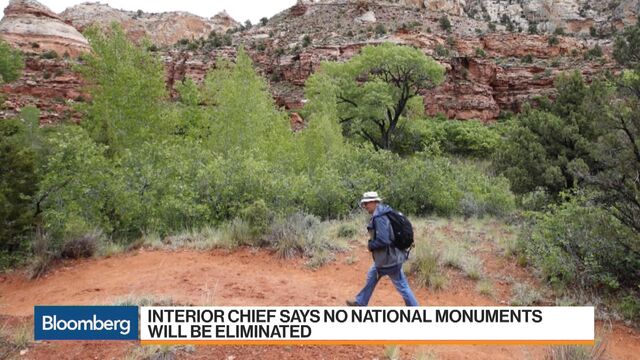 The Interior Department on Thursday gave President Donald Trump its recommendations for scaling back national monuments. 
But the agency didn't say what it proposed after its four-month review -- fanning the suspicions of critics that the administration is laying the groundwork for a dramatic rollback in protections, opening up public territory for more oil drilling, logging and mining.
"From what we're hearing, we're going to see a proposal to massively reduce the size of some of the most important national monuments in the West," said Matt Lee-Ashley, a senior fellow at the Center for American Progress, which opposes the effort. "Why go to all this trouble or keep your recommendations secret if you're just going to tinker around the edges?"
Lee-Ashley, a former Interior Department official, said the group is anticipating a recommendation that would at least halve the 233 million acres of national monument land and ocean area covered by the administration's review. The monuments in question contain relics, prehistoric structures and, in some cases, oil and mineral wealth.
The Interior Department didn't release the draft report and its two-page summary didn't specify its recommendations. Interior Secretary Ryan Zinke told the Associated Press early Thursday that he wasn't proposing to eliminate any monuments but would recommend boundary adjustments to areas designated under the Antiquities Act.
Senator Tom Udall, a Democrat from New Mexico, faulted the administration for failing to "provide any real information to the public."
"This summary is not transparent," he said in a news release. "This is not how our government should do business."
Representatives of the Interior Department declined to comment on the criticism.
Boundary Adjustments
Presidents Barack Obama, George W. Bush and Bill Clinton set aside hundreds of millions of acres of federal land for protection under a 1906 law known as the Antiquities Act. Trump, other Republicans and industry critics argued the power was overused, putting too much federal land off limits to logging, mining and other commercial uses.
The Washington Post reported Thursday that Zinke's report recommends reductions in the size of Oregon's Cascade-Siskiyou National Monument as well as Utah's Grand Staircase-Escalante and Bears Ears.

"No president should use the authority under the Antiquities Act to restrict public access, prevent hunting and fishing, burden private land, or eliminate traditional land uses, unless such action is needed," Zinke said in a statement.
Zinke already signaled that Bears Ears National Monument, a 1.4-million-acre site in Utah, will face broad changes. Designated by Obama in the final weeks of his presidency last December, the site boasts iconic red-and-yellow sandstone structures, historic artifacts and petroglyphs carved into rock -- as well as uranium and potential oil resources. It is also opposed by Republican lawmakers from Utah, including Governor Gary Herbert, Senator Orrin Hatch and Representative Rob Bishop.
Earlier: Trump Orders Review of 1906 Monument Law to Help Oil, Mining
Under the law, presidents are supposed to reserve "the smallest area compatible with the proper care and management of the objects to be protected," but critics say some designations -- such as Clinton's naming of the 1.7-million-acre Grand Staircase-Escalante monument in Utah -- exceeded that limited approach.
"The intent has clearly been violated," Bishop told reporters. "The debate is about the process and the rule of law."
The review found that presidents have arbitrarily applied that "smallest area" definition, with some boundaries influenced by politics -- not "supported by science or reasons of practical resource management," the department said.
Without naming specific sites, it said that even where some monuments appear to flout the purpose of the Antiquities Act, they nevertheless "reflect a long public debate process and are largely settled and strongly supported by the local community."
Bears Ears
Bears Ears is the epicenter of the fight. The monument contains uranium, and more than 90 percent of the site overlaps with potential reserves of oil, gas and coal, according to an analysis of U.S. government data by Greenpeace that was checked by Bloomberg.
Trump highlighted Bears Ears by name in April, when he ordered the review, terming national monuments as a "massive federal land grab" that has "gotten worse and worse and worse."

"This should never have happened," Trump said, promising to "end these abuses and return control to the people."
Conservatives urged Trump to follow through on the Interior Department's recommendations by scaling back recently designated monuments.
Dramatic Increase
"In recent years, the federal government has used the Antiquities Act to dramatically increase the amount of land it's seizing control of – with monuments designated under President Obama nearly 200 times the average size of those President Theodore Roosevelt was initially authorizing," said Christine Harbin, vice president of external affairs for Americans for Prosperity.
If Trump moves to shrink the monuments as proposed, he faces an inevitable legal fight. While the 1906 Antiquities Act gives presidents a way to safeguard federal lands without waiting for action from Congress, it does not explicitly give them the power to revoke the designations. A 1938 legal opinion indicated former President Franklin Roosevelt did not have the authority to abolish a monument for a Civil War fort in South Carolina.
Although presidents have scaled back the size of some monuments, those reductions weren't challenged in court, so there is no binding legal precedent. The fight has already begun: The Center for Biological Diversity filed a public records request Thursday to get a copy of Zinke's recommendations.
Director Randi Spivak said administration officials were "hiding the report so they don't have to face public backlash for trying to sell out America's public lands to fossil fuel development and logging."
— With assistance by Christopher Flavelle, and Erik Wasson
Before it's here, it's on the Bloomberg Terminal.
LEARN MORE