Small Business
Snowboards Have a Lot to Learn From Catamarans
The wild designs from Gilson Boards make shredding a bit more buttery and playful.
By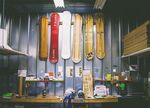 Nick Gilson was 14 years old when he decided to try to build a snowboard inspired by boats. He'd often sailed in his native Rhode Island and once helped his father build a catamaran. The vessel's parallel twin hulls make it faster than traditional yachts. Gilson wondered if a similar design could be applied to snowboards, which typically are flat on the bottom. So he started to work on a prototype.
In 2013—10 years later—he co-founded Gilson Boards. The company's boards feature two runners straddling the bottom, creating a channel and providing more versatility and control in various snow conditions, Gilson says. A bigger selling point has been the softer, curved edge. Put a ruler across one of the boards, Gilson says, and it won't lie flat because of the curves. That, he claims, makes the board more fun to ride: "It allows you to engage in playful moves—you can turn and drift and float on the snow," similar to surfing techniques. "By changing the base design, we could fundamentally change the performance of the board."
The company sold more than 1,000 boards in 2016, bringing in almost $1 million in revenue, according to Gilson, and sales have grown 200 percent every year since he and co-founder Austin Royer started the company in Winfield, Pa.
The partners worked with engineers at nearby Bucknell University, who helped them improve the design so snow wouldn't get stuck in the channel between the runners. They also turned to engineers at Penn State to test different techniques for binding plastic and fiberglass, two of the materials used to make the boards, in addition to locally sourced wood. All the materials are made in the U.S.

Their first winter in business, Gilson logged 17,000 miles hauling a 1976 Airstream trailer to test the board and recruit private investors. He stopped at ski resorts from Vermont to California to show off the prototype and let prospective customers try it. The feedback convinced the partners there was a market for their product.
To manufacture the boards, two robots shape the wood cores with greater accuracy than any human could, Gilson says. The boards are then compressed in a machine that uses patented technology designed by Gilson and Royer to reduce energy usage and production costs. From start to finish, a board takes two days to move through the factory; it ships out on the third day.
An early pivot came in 2014. After rejections from 3,000 sports retailers, Gilson and Royer decided to begin selling directly to consumers. "They said, 'It looks too weird. I don't know how to sell this,' " Gilson says, describing reactions from big national chains such as Christy Sports and smaller specialty shops like Ski Corner in Scranton, Pa.
Prices for the boards range from $489 to $749 for off-the-shelf models and $600 to $1,000 for custom designs, which account for almost 20 percent of business. August through February is peak sales season in North America and Europe. Orders from Australia and New Zealand keep the factory busy from April through early July.
Interest has spread largely by word-of-mouth, in person, and on social media. "The board is so fundamentally different, and people who find it to be better get loud about it and tell their friends," Gilson says. A demo video on Facebook has racked up 3 million views since it was posted last November. There's also a growing roster of events the startup organizes or participates in to connect directly with consumers. "We control our message and community interactions completely," Gilson says.
At the company's 5,000-square-foot headquarters in Winfield, a factory dubbed the Gilson Snowboard & Ski Farm is surrounded by traditional crop and dairy farms. Every July the company hosts a Summer Snow Day festival with live music, free beer, and booths for local craftspeople. About 1,300 people from California to New Jersey traveled to the festival this year.
Royer says the company typically pulls in 20 to 30 orders after the event. "People come in and say, 'We were at your event, and now we're ready to buy.' "
Tina Macko, a snowboard coach in Wadsworth, Ohio, says it took about seven runs, in a single day, to get used to her Gilson board. "It's completely worth the exchange for the playfulness," she says. "It's responsive, but it's fun and buttery at the same time, which no one has really been able to accomplish up until now."
The company has 11 full-time employees; Gilson is chief executive officer, and Royer heads operations. Twelve private investors have contributed from $30,000 to $100,000 each, for a total of $1 million.
The soft edge that convinced the partners they had a viable new snowboard design is now being used in a line of skis introduced by Gilson Boards last year; 100 pairs are being tested in the field, and the company plans to release 1,000 in the fall.
The founders' desire to maintain control has led them to reject offers of venture capital and private equity. Gilson says they might need a financial partner in the next year to support more rapid growth.
"Nobody at this company has ever worked for another snowboard company," he says, "and the big reason is that we don't want to know how things have always been done."
BOTTOM LINE -
Sales of Gilson snowboards have grown 200 percent annually since the company was founded in 2013. The startup is expanding into skis.
Before it's here, it's on the Bloomberg Terminal.
LEARN MORE