China's Biggest Oil Producer Is Giving Investors a Full Profit Payout
By
PetroChina surprise dividend decision seen as one-time event

Pays out entire first-half profit of nearly 12.7 billion yuan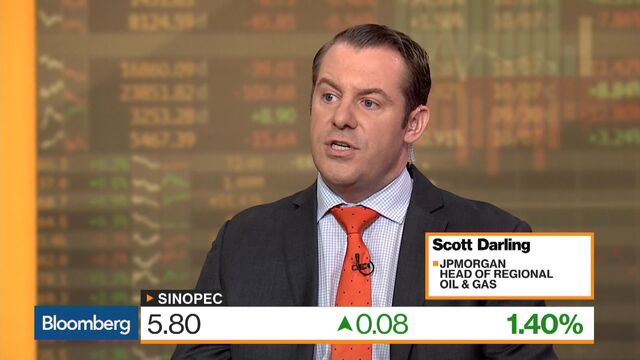 Start your day with what's moving markets in Asia. Sign up here to receive our newsletter.
PetroChina Co. took a page from the playbook of global peers known for generous dividends by deciding to pay shareholders its entire half-year net income.
China's biggest oil producer passed on to investors the benefits of higher global prices with almost 12.7 billion yuan ($1.9 billion) in dividends, the Beijing-based company said Thursday as it reported earnings that beat estimates. While seen as a one-time payout, and small relative to international majors, the move raised expectations of more investor rewards this year from China's state-owned giants.

PetroChina shares in Hong Kong rose as much as 4.6 percent on Friday before closing up 3.7 percent at HK$5, the highest since Aug. 9. The city's benchmark Hang Seng Index gained 1.2 percent. Rival Chinese oil producer Cnooc Ltd., which also reported estimate-beating profit Thursday, jumped as much as 4.2 percent.
To read a Gadfly commentary on PetroChina's shift to natural gas, click here.
Earnings by the biggest explorers including Royal Dutch Shell Plc, Exxon Mobil Corp. and Chevron Corp. improved as oil prices in the first half averaged about 30 percent higher than a year ago, near $53 a barrel. That's helped them generate enough cash to meet investors' expectations of taming debt while sustaining dividends.
Meanwhile, similar surprise payouts by state-owned enterprises such as China Mobile Ltd. and coal miner China Shenhua Energy Co. signal both a new-found interest in luring investors as well as a possible trend of shifting cash back to state coffers. PetroChina is 86 percent owned by its unlisted parent, China National Petroleum Corp., which is ultimately controlled by the government.
"The generous dividend payout was a gesture to please shareholders in a subdued oil market," said Tian Miao, a Beijing-based senior analyst at Sun Hung Kai Financial Ltd. "CNPC will pocket a nice payment as well. PetroChina's growth will continue into second half of the year as it finds a way to keep cutting operation costs."
PetroChina's interim and special dividends totaled more than 0.069 yuan per share, nearly triple the forecast for almost 0.025 yuan for the period. Its earnings beat an expected 10.6 billion yuan profit based on the average of three estimates compiled by Bloomberg. The payout policy likely won't last, according to Tian and Hao Hong, chief strategist at Bocom International Holdings Co. in Hong Kong.
Welcome One-Off
"It's welcome news for investors, but at the same time I would say that this is a one-off," Hong said. "For this year, the guidance for state-owned enterprises is to increase the contribution to the government."
Steady dividends are one of the primary attractions for oil-company investors. Exxon has increased its payout for 35 consecutive years, while Shell and BP Plc have even borrowed money to maintain them during oil's three-year downturn.
PetroChina's $1.9 billion in half-year dividends is dwarfed by Exxon, one of the global leaders among oil companies in cash payments to investors, which gave out almost $12.5 billion last year, according to data compiled by Bloomberg. Chevron paid about $8 billion.
And while the decision to pay all profits as dividends was a surprise, the annualized 3.3 percent yield is only "moderately generous," said Laban Yu, head of Asia oil and gas equities at Jefferies Group LLC in Hong Kong.
PetroChina's dividend policy this year is based on its improved cash flow and operations, President Wang Dongjin said at a briefing Thursday in Hong Kong. "We will pay more attention to shareholders interests in dividend payout in future, and our payout policy will be more flexible."
The rise year-on-year in oil prices has stabilized profits at China's state-run producers, but hasn't proved high enough to reverse declines in the country's crude fields after state majors shut money-losing wells. As they boost combined spending for the first time in four years, their focus has shifted toward natural gas to meet booming domestic demand amid a push by President Xi Jinping's government to burn cleaner fuels.

China's oil output fell about 5 percent in the first half of this year, putting it on course to produce the least amount of crude since 2009 and increasing its reliance on imported supplies. Natural gas output in the same period rose 8 percent.
PetroChina is following that trend globally, with total output of the fuel during the first half rising 5.3 percent year-on-year, while crude production fell 7.4 percent. Combined oil and gas production slipped 3 percent to 725.7 million barrels. That's about 4.01 million barrels a day, according to Bloomberg calculations.
The company's lifting costs, or the cost of production for each barrel of oil equivalent, fell 4.2 percent to $11.32. Cnooc said its operation costs slipped 3.5 percent to $7.16 a barrel of oil equivalent.

Cnooc said Thursday that it swung to a profit of 16.3 billion yuan in the first half, beating an expected net income of 10.47 billion yuan. The company, a pure oil and gas producer, will pay an interim dividend of HK$0.20 a share.
Cnooc's partners Exxon and Hess Corp. in June approved a $4.4 billion development plan for the Liza project offshore Guyana, which is designed to produce 120,000 barrels of oil a day in the first phase of development and is expected to start 2020. Cnooc, which owns a 25 percent stake in the project, will book reserves from it when it publishes its next annual report in March, Chairman Yang Hua told reporters Thursday in Hong Kong.
The board of China Petroleum & Chemical Corp., the refining behemoth known as Sinopec, is meeting Friday to approve half-year results. The company is expected to publish results Sunday.
— With assistance by Rakteem Katakey, Dan Murtaugh, Aaron Clark, Dominic Lau, and Jing Yang
Before it's here, it's on the Bloomberg Terminal.
LEARN MORE