Merkel's Second-Term Allies Are Wary of a Coalition Repeat
By and
FDP differs with chancellor on euro area's future: Brzeski

Free-market party was wiped out after last Merkel partnership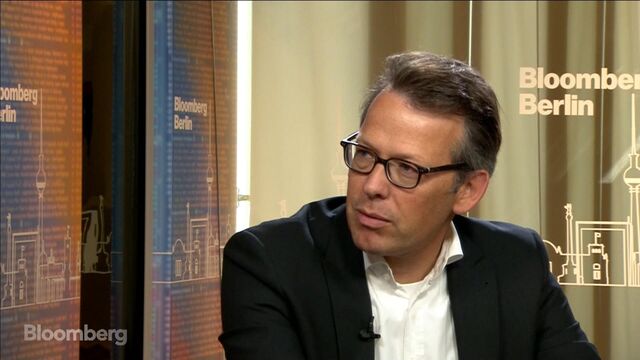 Chancellor Angela Merkel may struggle to convince Germany's tax-cutting Free Democratic Party to join her government a second time even if the math works out on election night.
Polls suggest that Merkel, the front-runner since the spring, will have a choice of coalition partners after the election on Sept. 24. If Merkel wins a mandate for a fourth term, whichever party joins her government will have an impact on the euro area's future, according to Carsten Brzeski, an economist at ING-Diba in Frankfurt.
Prime contenders include the FDP, which clashed with Merkel over her support for euro-area bailouts during her second term. Now, the party seems poised to return to parliament after a four-year absence, though that doesn't mean the Free Democrats would be a pushover, said Otto Fricke, a member of the party's national leadership.
"If you could be a mouse and listen to when we have these board meetings of the FDP, you would find out that that isn't really the debate," Fricke, a former budget committee chairman in the lower house, or Bundestag, said in a Bloomberg Television interview. The litmus test for joining the government is whether its leader agrees to a more aggressive modernization agenda for Europe's biggest economy, he said.
Greek Bailouts
Parties that have played junior partner to Merkel since she took office in 2005 haven't generally fared well. The FDP took a record 14.6 percent of the vote in 2009 and joined Merkel's government, only to crash out of the Bundestag four years later after failing to impose its tax-cut agenda and fighting over bailouts for Greece.
Based on the party platforms for the 2017 election, the FDP "has an almost completely different vision for the eurozone" than Merkel, Brzeski said in a note to clients published Thursday. That includes scaling back the currency union's financial backstop, the European Stability Mechanism, and allowing a euro-area "exit mechanism."
That "would make many German economists happy, but would hardly improve the monetary union," Brzeski said.
Coalition Choices
Among the parties that might make partners for Merkel if she won a fourth term, the FDP would be competing with the Greens and the Social Democrats, the second-biggest party and Merkel's current ally. The FDP's platform calls for a 30 billion-euro ($35 billion) middle-class tax cut, twice the amount floated by Merkel and Finance Minister Wolfgang Schaeuble. Other planks include a push to expand fiber-optic cable and promote excellence in education.

"We went through these four years with the Christian Democrats, we had great numbers and we failed," Fricke said. This time, the question is "can we change a very well-running country and make it fit for the future" or will there be "a chancellor that says: Well, same as it has been."
For an interactive guide to possible German coalitions, click here.
Polls putting support for the FDP as high as 10 percent suggest the party is within reach of winning enough support for a coalition with Merkel's CDU-CSU bloc, which had 38 percent in the weekly Insa poll published Tuesday. That compares with 24 percent for the Social Democrats, 7-8 percent for the Greens, 8-9 percent for the anti-capitalist Left party, and 7-10 percent for the anti-immigration Alternative for Germany.
Participating in the next government is "not of importance" for the FDP at this point, Fricke said. Still, "of course every politician at the end needs power."
— With assistance by Elena Gergen-Constantine
Before it's here, it's on the Bloomberg Terminal.
LEARN MORE