China Says U.S. Probe 'Sabotages' Global Trade System
Bloomberg News
Beijing displeased with 'unilateral and protectionist' action

U.S. is reviewing China's practices on intellectual property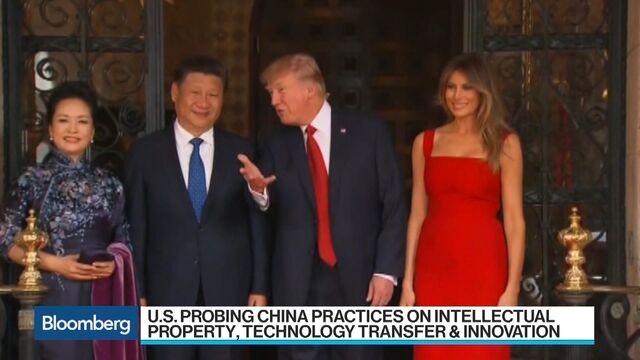 China ratcheted up its opposition to the U.S. investigation into its intellectual property practices, accusing the Trump administration of sabotaging the international trading system, and again pledging to defend its interests if necessary.
At the same time, Ministry of Commerce spokesman Gao Feng said at a briefing Thursday in Beijing that the two nations have more shared interests than disputes and stressed that cooperation is the best way to address any differences.
"The U.S. investigation of China based on domestic laws sabotages the existing international trading system, and has poured cold water on all parties that have been working to promote bilateral economic ties," Gao said. He added that China was strongly displeased by what it called "unilateral and protectionist" action.
The remarks took a sharper tone than the ministry's statement following an announcement Friday of the investigation by U.S. Trade Representative Robert Lighthizer. The U.S. is probing China's practices on intellectual property, technology transfer and innovation to determine if the behavior is "unreasonable or discriminatory," or restricts U.S. commerce. President Donald Trump asked Lighthizer earlier this month to consider such a move.
Gao said China hopes to work with the U.S. to consolidate achievements from previous negotiations and to reach further positive outcomes.
Trade tensions between the world's two biggest economies have showed signs of heating up after a short honeymoon period. Earlier this week, the U.S. asked the World Trade Organization to set up a dispute settlement panel to examine China's administration of tariff rate quotas on agricultural products including wheat, rice and corn, which could force the Asian nation to change its policies or face retaliation in the scenario of a U.S. victory.
Read More: China Focuses on Avoiding Trade War as Xi-Trump Honeymoon Ends
China expressed regret at the U.S. decision to move forward with the case, and will properly address the issue under the WTO rules, said Gao. The U.S. asked China for consultations in December, and China has provided clarification and offered resolution, the spokesman said.
He added that the recent anti-dumping reviews China launched on two types of optical fiber products made in the U.S. were not retaliatory action against the U.S. probe.
"The two cases are conducted completely in accordance with the law," Gao said.
The ministry announced Tuesday that it will review anti-dumping measures against dispersion unshifted single-mode optical fiber made in the U.S. and European Union, a potential step toward higher tariffs on those imports. It marked the second investigation in a week after another probe on Aug. 18 to decide whether to extend anti-dumping duties on U.S. and Japanese optical fiber preform, a glass product used in fiber-optic cables.
— With assistance by Miao Han
Before it's here, it's on the Bloomberg Terminal.
LEARN MORE