Brexit Bulletin: Is the U.K. Flunking the EU's Test?
By
U.K. is trying to focus talks on the future relationship

May still hasn't offered clues on the financial settlement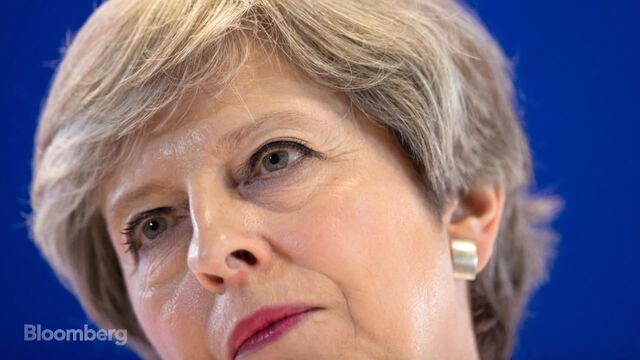 Sign up to receive the Brexit Bulletin in your inbox, and follow @Brexit on Twitter.
Back in July the European Union gave the U.K. some holiday homework: clarify what you want from Brexit or risk stalling the talks.
Prime Minister Theresa May's government got busy scribbling essays, the latest of which is on data protection and comes out today.
The problem, according to some Brexit watchers, is that despite the frenzy of activity the U.K. may have made the cardinal error of failing to answer the questions properly.
For a lot of what May's team have handed in is focused on future relations between the two economies, while the EU wanted insight into how to resolve differences over separation issues such as Ireland's border and citizens' rights. There has also been next to nothing said by London on the critical issue of a financial settlement — and the U.K. isn't expected to give any detail on it next week when talks resume in Brussels.
That means the EU may still feel the U.K. hasn't done enough for its governments to green-light negotiations for a long-term trade deal in October, as initially planned. 
"It remains unlikely that enough progress can be made to move on to the future EU-U.K. relationship anytime soon," said Carsten Nickel, deputy director of research at Teneo Intelligence. "Despite the position papers, the U.K.'s preferences for the future relationship remain vague, and progress on key divorce items has been limited."
The U.K. is playing a "risky game" by not offering anything new on two sticking points — the divorce bill or the rights of EU citizens, said Andrew Goodwin at Oxford Economics, who cut his probability of successful agreements on separation and transition to 60 percent from 70 percent. 
"This increases the likelihood that progress will be slow, which would put further pressure on what is already a very tight timetable," he said.
Others are more optimistic Britain is passing the test. On Wednesday it accepted that EU law will have sway in Britain even after Brexit, potentially smoothing the way for deals on citizens' rights and commerce. By seeking a transition for after March 2019 it has also dropped threats that "no deal is better than a bad deal."
The position papers represent a "sensible U.K. approach hiding in plain sight," Rupert Harrison, a former U.K. Treasury adviser now at Blackrock Inc., tweeted.

Brexit Latest
Data Protection | The U.K. government is set to reveal plans to adhere to European data sharing rules, as it seeks to minimize disruption for U.K.-based companies conducting business with the bloc after Brexit.

EIB | The U.K. will warn the EU next week not to make greater financial demands over its contributions to the European Investment Bank, which the EU uses to fund infrastructure projects. The U.K. contributes about 16 percent of the capital in the EIB, so in theory May could seek reimbursement on some 10 billion euros when the U.K. pulls out.
On the Markets | The pound dropped anew on Wednesday amid signs the U.K. and European economies are diverging. Bloomberg Gadfly's Mark Gilbert argued parity with the euro is beckoning. Speculators are on course to extend their short positions on the pound to 21 months, the longest pessimistic streak since 2010.

The Economy | The Bloomberg Brexit Barometer gained for a third straight day, but a model created by economists at UBS suggested the British economy is headed for near-stagnation. Roger Bootle of Capital Economics became the latest pro-Brexit economist to publish a report for Economists for Free Trade. He argues the EU economy has been hobbled by the obsession of its leaders with integration and harmonization.
Letter Error | U.K. authorities are investigating how around 100 EU nationals living in Britain were sent letters warning they were liable to be detained and deported despite being legally entitled to remain. Meanwhile, Home Secretary Amber Rudd is studying the economic impact of international students in the U.K., according to the Financial Times. 
Brexit Bankers | Nick Jue, the chief executive of ING-DiBa, said he was concerned that it may get "more expensive" to hire skilled wholesale bankers in Frankfurt because of Brexit relocations. Royal Bank of Canada said it expects to move fewer jobs from London than most rivals if Brexit forces it to relocate some staff. Reuters reported the International Regulatory Strategy Group will propose a mutual access trade pact in a report in September.
Cheesed Off | Swiss cheesemaker Emmi AG became the latest victim of Brexit, lowering its sales forecast as the pound's weakness makes European-produced goods less competitive in the U.K. The drop in sterling is cutting into revenue of the Onken yogurts that Emmi produces in Germany and A-27 desserts it makes in Italy, the company said on Wednesday.
And Finally...
Frankfurt has the banks, and Paris has the culture, but for trading firms looking for a post-Brexit European home, Amsterdam may have the best attraction of all: a friendly regulator.
As Will Hadfield and Ellen Proper report today, the Dutch Authority for the Financial Markets already presides over the most important cluster of European proprietary trading firms -- the high-speed giants of financial markets -- outside the U.K. The Dutch regulator allows such firms to trade with big pension funds and insurance companies without treating them as clients, a distinction that reduces the legal and regulatory burden.
Now, with fewer than two years until the U.K. leaves the EU, local trading firms are helping showcase Amsterdam's attractions. Chicago-based algo traders Radix Trading and Hard Eight Trading have joined U.S. trading giants Tower Research Capital and Quantlab in locating European operations in the Dutch city. Tradeweb LLC and MarketAxess Holdings Inc. -- operators of financial markets popular with proprietary traders -- are also putting jobs there.

For more on Brexit follow Bloomberg on Twitter, Facebook and Instagram
Before it's here, it's on the Bloomberg Terminal.
LEARN MORE