Angola's Ruling Party Leads With 65 Percent of Provisional Count
By and
Main opposition party, Unita, rejects election results

Electoral commission says Unita won 24.4 percent of ballots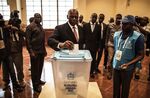 The ruling Popular Movement for the Liberation of Angola led a provisional vote count in Wednesday's election in Africa's second-biggest oil producer, winning 64.6 percent with almost two-thirds of the results reported.
The main opposition Union for the Total Independence of Angola, or Unita, received 24.4 percent, Julia Ferreira, a spokeswoman for the National Electoral Commission, told reporters Thursday in Luanda, the capital. The Broad Consensus for Angolan Salvation-Electoral Coalition party, the second-biggest opposition group, obtained 8.6 percent, she said.
The MPLA will probably gain control of Angola's 220-member legislature and have its presidential candidate, Joao Lourenco, 63, succeed outgoing President Jose Eduardo dos Santos. Voter turnout was 77 percent, according to the electoral commission. Dos Santos, Africa's second-longest serving ruler who led Angola through a civil war, an oil-fueled boom and a bust, is stepping down after 38 years in power.
"These results aren't real," Jose Pedro Katchiungo, a Unita official, told reporters in Luanda. "The National Electoral Commission was a disaster."
Katchiungo complained of difficulties obtaining access to polling stations by Unita officials registered to monitor the vote. He said his party would prove that the outcome was different from data announced by the national election body.
Dos Santos, 74, is credited for rebuilding Angola with income from oil through glitzy infrastructure projects. At the same time, some of his family members accumulated fortunes, while a third of the population still lives in poverty, according to the World Bank. His eldest daughter, Isabel, is Africa's richest woman, with an estimated wealth of $2.3 billion, according to the Bloomberg Billionaires Index.
The Angolan economy, sub-Saharan Africa's third-largest, has been crippled by oil prices that have halved since mid-2014 and led to zero growth for 2016, an inflation rate of 30 percent and a shortage of dollars. Angola depends on oil for more than 90 percent of its export earnings.
Before it's here, it's on the Bloomberg Terminal.
LEARN MORE