Small Business
A Czech Producer Buffs Up the Bohemian Glass Industry With a Focus on Design
Verreum has hired international artists to breathe new life into the business.
By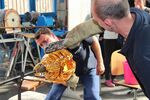 In a cluttered, concrete-floor workshop nearly as hot as a sauna, a half-dozen men in T-shirts and shorts glide around a glowing furnace, pulling out long, hollow wands tipped with molten glass. One by one, the workers put the tubes to their lips and gently blow, twirling the wand as the glass bubble expands, shaping the mass into a vase, a carafe, a cup, or even a small piece of furniture. "We are breathing new life into the Czech glass industry," says Pavel Weiser, the glassmaker's owner.
Weiser's company, Verreum, has drawn a global following by marrying traditional craftsmanship with 21st century design and marketing. It specializes in silvered glass—handblown glassware coated with a thin film of metal. The process was developed in the 1800s for items such as candlesticks and vases but had virtually disappeared until Weiser revived it.

Verreum's workshop, 60 miles north of Prague, turns out limited-edition pieces created by internationally known designers, priced from €150 ($177) for a pair of coffee cups to about €3,000 for a table or stool. "When they first contacted me, I was skeptical," says Luca Nichetto, a designer in Venice who has done two collections for Verreum. Nichetto says he was won over by Verreum's willingness to let him experiment with ideas such as an "extraterrestrials" collection of oblong vases and candleholders with appendages resembling antennae.

Such creations are a long way from the carved crystal and hand-painted items typical of Bohemian glassmakers. Although tourist shops in Prague overflow with those, Czech manufacturers have struggled in the post-Soviet era as state-owned factories were privatized and faced lower-cost competition from China. With $230 million in annual sales, the Czech glassware industry has contracted by about 25 percent since the mid-1990s, and the number of workers has fallen by more than two-thirds. Verreum is one of at least a half-dozen Czech startups that are helping revitalize the business with a focus on high-end design and creative production methods.
In the mid-2000s, while working in finance in Prague, Weiser took potential investors to look at a glass factory. They didn't bite, but Weiser, 48, was intrigued and invested in the business. He soon came across references to silvered glass and sensed it could be "a really exciting product, made from an amazing material, with design that's young and fresh." In 2009 he sold out of that company to start Verreum. The company's workers today heat glass pellets, sand, and chemicals to more than 2,000F. The objects are blown, cooled, and placed in wooden molds; later they're reheated to form a second layer of glass. This process creates extremely thin and light objects, but the surface must be flawless, because the silver finish, applied afterward, magnifies imperfections. When Weiser first explained the technique to workers, they asked, "  'Why? It's too complicated,'  " he recalls. "But they decided they liked the challenge."

Weiser hired artists such as Nichetto and Karim Rashid, an industrial designer in New York, to create collections for the brand that have been exhibited at shows in Milan and Paris. Verreum items are sold at boutiques and museum stores in Paris, London, and New York and have been featured in interior design magazines and in museums. Weiser says his biggest market is the Middle East, where there's a tradition of giving fine glassware as a gift.
Verreum leases its space but next year plans to open its own factory. Weiser says sales will grow about 30 percent this year from €1 million in 2016. While the company occupies only a tiny niche in the Czech glassware industry, it provides a lifeline to some suppliers of glassmaking equipment while employing graduates of a local school that trains glassblowers. The plant offers "a completely new work routine," says Michal Masek, recruited by Verreum after the factory where he worked went bankrupt. "There's more art and design. Every day is different."
BOTTOM LINE -
With a focus on high-end objets d'art such as €3,000 glass stools, Verreum is building a global following and helping reinvigorate the Bohemian glassware industry.
Before it's here, it's on the Bloomberg Terminal.
LEARN MORE