U.S. Weighs New Venezuela Sanctions That May Hit Bonds
By and
Measures would seek to disrupt Maduro's financing channels

Trump administration targets Venezuelans to increase pressure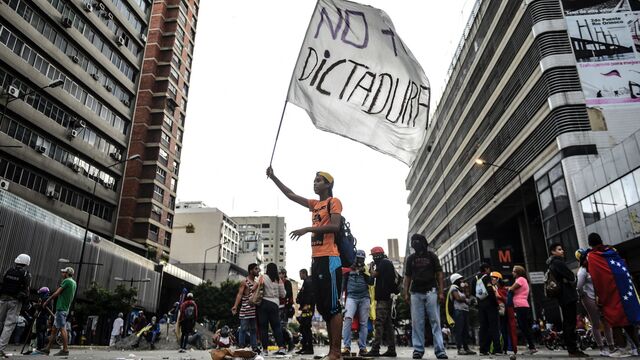 The U.S. is preparing another round of sanctions to punish the government of Venezuela, and one potential tool under review would squeeze trading in the country's debt, according to two people familiar with the deliberations.
The next steps in a campaign to pressure President Nicolas Maduro are still being debated within the Trump administration and no decisions have been made, one of the people said. U.S. President Donald Trump is traveling outside of Washington and the discussion is still going on at the State and Treasury departments.
One measure under consideration would block trades of Venezuelan-held dollar-denominated notes sold by the government and Petroleos de Venezuela SA, the state-run oil company, according to another person. Both people spoke on condition of anonymity because the actions are still under deliberation.
The U.S has been escalating sanctions on Venezuelan officials and others connected to Maduro as the socialist government moves to increase its authority amid a crippling recession and months of violent protests. Secretary of State Rex Tillerson has labeled Maduro a dictator for arresting opposition leaders and seeking to revise the constitution.
Venezuela Flirts With Economic, Political Meltdown: QuickTake
Vice President Mike Pence is applying another pressure point by meeting on Wednesday afternoon with Venezuelan exiles in Florida.
"The United States of America will continue to bring the full measure of American economic and diplomatic power to bear until democracy is restored in Venezuela," Pence said in remarks at a Catholic church in Doral, Florida. He noted the sanctions already imposed recently and said "there's more to come."
The vice president earlier this month made stops in several Latin American countries to discuss additional measures that can be taken against Maduro's government. He was joined at the event with the exiles by Florida Republican Senator Marco Rubio, who has been pressing the Trump administration to take aggressive action on Venezuela.
Venezuela Traders Have a New Worry in the Trump White House
Maduro said Tuesday that Venezuela is prepared for any U.S. sanctions and that the Trump administration is trying to create a "financial blockade" against the South American nation. He called relations with the U.S. the worst in history.
The sanctions against Maduro and his cabinet members in recent weeks have triggered concerns among investors about the potential for steeper economic penalties against the nation. Venezuela and PDVSA are due to pay $3.53 billion in bond payments in October and November.
Bonds from the sovereign and its state oil company dropped Wednesday, with some securities reaching an 18-month low, after the Wall Street Journal first reported that the U.S. was contemplating restricting the buying and selling of such notes.
Stifel Nicolaus & Co. strategist Victor Fu said in a note that a ban on trading Venezuela and PDVSA bonds would be "impractical" since it would hurt U.S. financial institutions more than the Maduro government. 
Oil Exports
The U.S. thus far has refrained from imposing broader economic sanctions on Venezuela that would affect the country's oil exports to the U.S.
Home to the world's largest crude reserves, Venezuela produces a fifth as much crude as Saudi Arabia or the U.S. as a wave of nationalizations and payment delays have cut investment and maintenance at oil fields. Output had already fallen to a 14-year low in July.
"The whole machine is coming apart," said Russ Dallen, a managing partner at Caracas Capital Markets. "It creates more uncertainty about their ability to make a heavy debt payment in October and November."
The implied probability of the country missing a payment over the next 12 months has risen to 66 percent, according to credit-default swaps data compiled by Bloomberg. The odds of a credit event over the next five years increased to 96 percent.
— With assistance by Brendan Walsh, Lucia Kassai, Nathan Crooks, Daniel Cancel, Fabiola Zerpa, Katia Porzecanski, Ben Bartenstein, Noris Soto, Tiffany Kary, Toluse Olorunnipa, Andrew Rosati, Ethan Bronner, Nick Wadhams, and Jonathan Levin
Before it's here, it's on the Bloomberg Terminal.
LEARN MORE