Markets
Venezuela's IOUs Pile Up, Keeping U.S. Oil Servicers in Tow
By
Venezuela's IOUs Pile Up, Keeping U.S. Oil Servicers in Tow
By
With $19.8 billion due others, company payouts remain far off

Schlumberger, Halliburton gain from interest, regular payment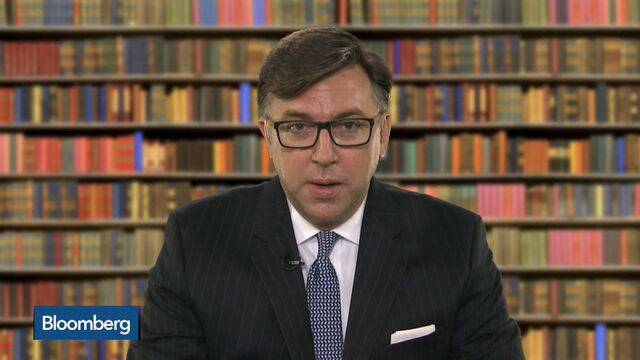 For Schlumberger Ltd. and Halliburton Co. the road to payment for services in Venezuela is increasingly long and winding.
The latest twist is Petroleos de Venezuela's decision to give some contractors -- including the two oilfield service companies -- promissory notes that are essentially IOUs. It's the second straight year that oilfield contractors have agreed to take the notes, representing some $2 billion owed.
The decision has opened new debate on how best to deal with a country carrying $19.8 billion in unpaid bills beyond the notes, according to a financial report earlier this month. In October and November, Venezuela and PDVSA must make $3.53 billion in debt payments to keep from getting cut off from global bond markets. The promissory notes help Venezuela preserve a key link with service companies needed to keep the oil and money flowing, said Tom Curran, an analyst at FBR Capital Markets in New York.
Although PDVSA has been chronically late on its bills since the global financial crisis, the company "has nevertheless steadily chipped away at them, however erratically and unpredictably," Curran said in an interview. More importantly, PDVSA has repeatedly signaled its intention to pay, he said.
Both sides get some benefit from the promissory notes. Venezuela stays connected to the servicers. The companies get to collect interest off their unpaid bills and, at the same time, they've established a stronger legal claim to the money they're owed, according to Brian Youngberg, an analyst at Edward Jones in St. Louis.
Oil Reserves
Home to the world's largest oil reserves, Venezuela is producing a fifth as much crude as Saudi Arabia or the U.S. as a wave of nationalizations and payment delays have cut investment and maintenance at Venezuela's oil fields. Staying connected to the debt owed Schlumberger and Halliburton allows PDVSA to keep open the chance of a energy revitalization in the future -- fueled by those service companies.
"Bless their hearts, they are trying," Russ Dallen, a managing partner at Caracas Capital Markets, said of PDVSA. "There's a hurricane blowing against them, but they keep on pointing into the wind."
Still, the notes may well keep the companies behind others for payback, said James West, an analyst at Evercore ISI.
"A promissory note is interesting, but I'm not sure it puts you ahead of major governments," he said in a telephone interview. "No one's getting paid in Venezuela for a long period of time."
Representatives for Schlumberger and Halliburton both declined to comment on the promissory notes. Schlumberger fell 0.1 percent to $63.32 at 12:44 p.m. in New York, while Halliburton climbed 1.3 percent to $39.16.
The companies disclosed the financial agreements with their "primary customer in Venezuela" last month when reporting second-quarter earnings results. Both took a charge for marking down the financial instruments by more than half to their market value.
'Heavy Loss'
"When you have to mark these things to market, it's not pretty," Dallen said. "It's a heavy loss."
Schlumberger's note represents $700 million in bills owed to the Houston- and Paris-based company. But it took a $460 million charge in the second quarter for entering into the agreement during the period. The note, a three-year term with interest of 6.5 percent, will be held as available for sale, Schlumberger said in a federal filing.
Halliburton declined to specify the term and interest rate on its note which hadn't officially been exchanged when the Houston-based company disclosed the agreement last month. It will represent $375 million worth of receivables. Yet, Halliburton recognized a loss of $262 million after its fair-market value adjustment.
Unlike Schlumberger, Halliburton said in a federal filing it will hold the note to maturity, but added: "we do not intend to accept further notes as payment if offered."
Interest Payments
Halliburton also took a promissory note last year during the second quarter in exchange for $200 million in unpaid bills. It recognized a loss of $148 million on the note at the time, but said last month PDVSA has made all scheduled interest payments. And at the end of the second quarter this year, that note had nearly doubled in value to $98 million, according to a federal filing.
Outside of the promissory notes, Schlumberger's remaining receivables in Venezuela at the end of June stand at $500 million, while Halliburton's are at $399 million.
Meanwhile, PDVSA's $19.8 billion in accounts payable to its suppliers at the end of last year is down by about $1 billion compared to the end of 2014, according to the financial report released by the company.
Other contractors that took promissory notes from PDVSA last year in exchange for receivables include Weatherford International Plc for $120 million and General Electric Co. for $194 million. Each of their notes carried three-year terms bearing interest at 6.5 percent, according to a prospectus filed for a planned bond offering.
"There are a few jobs that I'd like the least," Dallen said. "One of them: the guy with the calendar having to pay all these things constantly."
— With assistance by Ben Bartenstein, and Lucia Kassai
(
Updates with share prices in 11th paragraph.
)