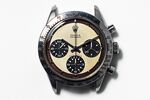 Among vintage collectors, certain timepieces are known as holy grail watches. They're the ones that inspire bidding frenzies and, subsequently, bragging rights.
So far, nothing tops a stainless-steel Patek Philippe that sold for $11.1 million at Phillips auction house in November. Patek produced only 281 of these 1941 wristwatches, mostly in gold; only four are known to have been made in stainless steel.
Also among the most coveted is the Daytona Rolex, a limited run of sports watches produced from 1966 until the mid-1970s, made famous by the actor and philanthropist Paul Newman, who wore one daily in the '70s. In May, an 18-karat gold "Paul Newman" Daytona fetched $3.7 million at Phillips in Geneva. A year earlier the company sold a stainless-steel version for $2 million. But neither of those had ever graced the blue-eyed star's wrist.
Now some lucky person will be able to buy the holiest of holy grail watches: Paul Newman's actual Paul Newman Daytona.
"You ask 100 collectors over dinners what's on their shopping list—the Paul Newman Daytona Rolex," says Aurel Bacs, senior consultant for watches at Phillips, which is running the auction in New York on Oct. 26.
Phillips estimates that Newman's stainless-steel Daytona Rolex wristwatch will fetch more than $1 million. That's conservative; given its provenance and good condition, vintage watch enthusiasts are throwing numbers as high as $10 million.
Rolex began making Daytona chronographs in 1963 to meet the needs of professional race car drivers. The main innovation had to do with the tachymeter, a scale that works in conjunction with the chronograph (the stopwatch), according to Paul Boutros, head of watches for the Americas at Phillips. Around 1966 the company came out with a Daytona version featuring an "exotic" dial, he says. It had art deco-style fonts and multiple color details such as a red, outer seconds track.

Newman got his "exotic" watch—a Rolex Cosmograph Daytona, reference #6239, made in 1968—as a gift from his wife, actress Joanne Woodward. The two starred together in the 1969 movie Winning, which sparked Newman's successful real-life racing career. The wristwatch had a white dial, three black subdials, the red outer track, and Woodward's engraving on the back: "DRIVE CAREFULLY ME."
"It's worth all the hoopla surrounding it," says Jason Singer, a vintage watch collector in Phoenix who believes Newman's Daytona could set an auction record for a wristwatch.
Bacs, who spent more than 20 years as a watch specialist for high-end auction houses, formed his own company, Bacs & Russo SA, with his wife, Livia Russo, in 2014. They've done wonders for Phillips since they started working with the company about a year later: In 2016, Phillips had $106 million in watch sales, outpacing Christie's £60.7 million ($81.8 million) and Sotheby's $55.7 million.
Given the intense competition among the three houses, the stakes are high for Newman's Rolex. Phillips has built an entire auction—Winning Icons: Milestone Watches of the 20th Century—around the trophy.
He obviously can't name names, but Bacs's strategy for finding a buyer is to tap into his team's personal networks. This caliber of collector is a "self-made billionaire in his 30s or 40s," Bacs says. Someone who's made his fortune in finance, commodities, or social media. The house will send the watch on a global tour—Tokyo, Taipei, Hong Kong, London, Miami, Seattle, Los Angeles, New York, and Greenwich, Conn.—hosting receptions and personal viewings.
In Seattle, there's a cocktail party planned with Ferrari; in Greenwich, there will be an event with Miller Motorcars. Investment banks are also lining up special events for their high-net-worth clients. Phillips has formed a partnership with UBS AG, for example, which serves 6 out of 10 billionaires in the world. The auction house is also publishing a lavish catalog and promoting it on social media—the watch surely has a story worth sharing.
In the decade after Newman received it from his wife, the Rolex traveled the world with the star, appearing on his wrist in promotional materials, magazines, and documentary footage. Then, in 1984, the star passed it on to an unlikely recipient: James Cox, a college student who dated Newman's daughter Nell.
That summer, the two men got to know each other as Cox spent several weeks renovating a family treehouse that hung over a creek on Newman's Nook House property in Westport, Conn. The actor would often come by to check on "the kid" and invite him to grab a bite to eat. On occasion, Cox recalls, Newman introduced him as "family" to visitors such as Martin Scorsese.
"Hey, kid, you know what time it is?" Newman asked one day. Cox had no clue. He didn't own a watch. "If you can remember to wind this each day, it tells pretty good time," the actor said, taking the Rolex off his wrist.
"It was kind of astonishing that he gave it to me," says Cox, 52, who's selling the watch to raise money for Nell Newman's nonprofit foundation.
Cox says he wore Newman's watch proudly for years. But as prices for vintage timepieces began to escalate, he put the token away in a safe deposit box. Although the romance ended after 10 years, Cox remains close with his ex-­girlfriend and volunteers as the treasurer of the Nell Newman Foundation.
"The watch was a beautiful gift," he says. "It's now my turn to do something beautiful with it."
Bacs's mission is more mercenary. "It's priceless," he says of the rarest Rolex in the world. "But priceless doesn't mean it won't eventually have a hammer price."
Before it's here, it's on the Bloomberg Terminal.
LEARN MORE