Looks Like Hiring More Women Bosses Really Does Pay Dividends
By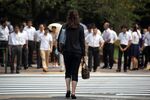 You didn't see this in the Google email.
Supporters of gender diversity in the workplace -- in particular boosting the number of women managers -- often stress the business benefits that can result. Analysis using Bloomberg terminal functions backs up their view -- in the most recent year's earnings at least.
The 25 percent of Asia-Pacific companies that had the largest share of women in managerial posts returned an average 4.6 percent on assets in the latest fiscal year, data compiled by Bloomberg shows. That compares with 3.7 percent for the 25 percent which had the least women managers.
The numbers -- crunched by Bloomberg's Functions for the Markets crew -- reflect a growing trend among investors who think promoting women is not only ethical, but good for profits as well. MSCI Inc. is responding, with its Japan Empowering Women Index beating gains in the Topix this year, and Bloomberg's own Financial Services Gender-Equity Index providing double the returns of the S&P 500's bank gauge so far in 2017.
— With assistance by Nobuhiro Sato
Before it's here, it's on the Bloomberg Terminal.
LEARN MORE