A U.K. Retailer Turns to Online Gaming as E-Sport Prize Money Eclipses Golf
By
Retailer focusing on switching from just seller of consoles

E-sports set to rival traditional sports in terms of winnings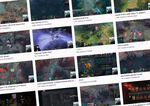 Game Digital Plc, the seller of Nintendo, Xbox and PlayStation consoles, is shifting its focus to e-sports in a bid to tap into an increasingly lucrative industry. 
The push towards e-gaming comes as Game Digital posted a sales of 891.7 million pounds ($1.1 billion) for the year to July 29, down 2.3 percent year on year. Shares in Game Digital, based in Basingstoke, England, rose as much as 42.13 percent early Wednesday in London, the highest since listing in 2014.
Online gaming has become a fast growing and increasingly lucrative sport. In August the annual Dota 2 International event broke the record for the largest prize pot in e-sports, with Europe's 'Team Liquid' winning the first place prize of $10.8 million. Thousands of gamers watched live, while hundreds of thousands tuned in via Twitch, the video-game streaming app acquired by Amazon.com Inc. for close to $1 billion in 2014.
Neil Campling, analyst at Northern Trust, pointed out in a recent note that the final golf major of the season - the U.S. PGA - posted historically poor viewing figures and although the prize pool was the tournament's highest, it was less than half the Dota 2 winnings. The PGA winner, Justin Thomas, took home $1.9 million. Team Liquid's winnings were shared between five players and their backroom staff.

Game Digital, historically a retailer selling consoles and computer games, has been struggling with the rise of online stores and what it has described as a "challenging trading environment." On June 20, its shares dropped 24 percent after it warned that annual sales growth would be below target.
However, the company has been focusing on reducing its retail footprint, and since late 2016 has been launching gaming hubs, where customers can play online games in-store, and take part in tournaments. In August the company revealed that Mike Ashley's Sports Direct International Plc had bought a 26 percent stake.
While focusing on e-sports and events, Game Digital is also reviewing strategic options for the Group's digital enterprise activities, including Multiplay's Digital division, which covers managed server hosting, augmented reality and digital marketing.
Game Digital acquired Multiplay for 20 million pounds in 2015. The new unit's sales have increased almost 50 percent to 7.1 million pounds over the past year. Unlike the e-sports business, the Multiplay Digital division remains a separate unit.
"Game has a significant opportunity to re-shape its retail footprint and cost base over the coming year," said Adam Tomlinson, analyst at Liberum, "which should help preserve cash and allow further investment to develop longer-term opportunities, including across its Events and e-sports division."
Before it's here, it's on the Bloomberg Terminal.
LEARN MORE