markets
Insider-Trading Crackdown Bolstered as Martoma's Appeal Rejected
By and
Porfolio manager was convicted in biggest-ever insider case

Martoma had argued trial tainted by improper jury instructions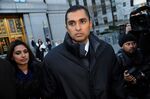 Former SAC Capital Advisors LP portfolio manager Mathew Martoma lost a bid to overturn his insider-trading conviction, giving a boost to federal prosecutors seeking to clean up illegal behavior on Wall Street.
White-collar crime experts said the appeals court ruling refusing to grant the jailed trader a retrial will widen the category of people who can potentially be prosecuted to include those who get an inside tip as a gift from an acquaintance or business associate.
Martoma was convicted in 2014 as part of the largest individual insider prosecution in the U.S. The appeals court in New York rejected Martoma's claim that the jury had convicted him based on improper instructions from the judge. He is serving a nine-year sentence in a Miami prison for using illegal tips to make $275 million for SAC on trades in Wyeth LLC and Elan Corp.
"This ruling is pretty clear," said Richard Holwell, a former federal judge in New York. "If you've got inside information, don't give it to somebody who you know is going to trade on it. So if you're at the gym, you can't be talking about it to your buddy who's a trader at some other house."
Holwell presided over the 2011 insider trading trial of Raj Rajaratnam and sentenced the Galleon Group LLC co-founder to 11 years in prison.
Prosecutor Victory
Wednesday's ruling was a comeback for prosecutors after more than a dozen insider-trading cases fell apart in the wake of a 2014 court decision that raised the bar for the government to prevail. That also led to the dismissal of charges against Michael Steinberg, a fund manager who was the longest-serving employee at SAC to be convicted in the U.S. probe.
Acting Manhattan U.S. Attorney Joon Kim said in a statement he's "gratified" by the court's ruling. Paul Clement, a lawyer for Martoma, didn't immediately return a phone message seeking comment on the ruling.
Martoma was convicted by a New York jury in February 2014 after spurning government requests that he cooperate in its investigation of SAC and its billionaire founder, Steven A. Cohen. 
Cohen wasn't charged with criminal wrongdoing. The U.S. Securities and Exchange Commission alleged in an administrative action that he failed to properly supervise employees.
SAC pleaded guilty in 2013 and paid a record $1.8 billion fine to resolve U.S. claims over insider trading. It changed its name to Point72 Asset Management LP and agreed to manage only Cohen's money.
Panel Votes
A three-judge panel of the federal appeals court rejected, by a vote of two to one, Martoma's appeal. Martoma argued that jurors should have been required to find that he knew that his source for the illegal tips -- a doctor working on clinical trials of a drug to treat Alzheimer's disease -- received a benefit for leaking secrets or that the two men shared a "meaningfully close personal relationship."
The decision explicitly rejected part of the reasoning behind the court's 2014 "Newman" ruling, which overturned the guilty verdicts of Todd Newman, formerly of Diamondback Capital Management, and Anthony Chiasson, co-founder of Level Global Investors. Under Wednesday's ruling, it's illegal to purposely give inside tips to someone if you anticipate they'll use them to trade. A close relationship is no longer required.
The ruling will likely empower the government in investigating and bringing insider-trading prosecutions, said Doug Davison, a Washington lawyer and former SEC staffer. And brokers will want to avoid even a hint of involvement in insider trades, which can ruin careers and reputations, he said.
"On Wall Street, I think it's just a reminder to be on the alert," he said.
Circuit Judge Rosemary Pooler said in a dissenting opinion that the decision runs counter to the Newman decision and to two Supreme Court cases setting limits on insider-trading prosecutions. The disagreement among the judges increases the possibility of a further appeal to the entire Manhattan appeals court or to the U.S. Supreme Court.
At Martoma's trial, Dr. Sidney Gilman, a former University of Michigan neurologist, testified as the government's star witness. He told jurors that Martoma pressed him for confidential information about a trial of the drug bapineuzumab from 2006 to 2008. Gilman was paid for dozens of consultations with Martoma, which were arranged by Gerson Lehrman Group Inc., an expert-networking firm.
Gilman said he gave Martoma details of the final results of the drug trial over the phone and in a meeting in his Ann Arbor, Michigan, office.
When two agents from the Federal Bureau of Investigation confronted Martoma in the front yard of his Boca Raton, Florida, home in 2011, he fainted, a fact that jurors didn't hear.
The case is U.S. v. Martoma, 14-03599, U.S. Court of Appeals for the Second Circuit (Manhattan).
Before it's here, it's on the Bloomberg Terminal.
LEARN MORE