Copper Rally Overhyped for Skeptics Warning of Plenty Supply
By
'Something off' about biggest gain since 2009, Barclays says

Hedge funds double bullish bets in two months to all-time high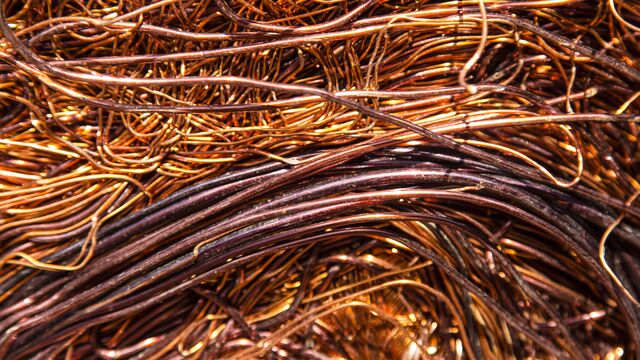 Copper's biggest rally in almost a decade is being greeted by a growing chorus of skeptics.
The metal is up 18 percent since Dec. 31 -- the best start to any year since 2009. But analysts at Natixis SA and Bank of America Merrill Lynch say the ride down could be just as fast as the way up. They point to a handful of indicators that suggest markets are out of sync with the fundamentals, and Barclays Plc predicted losses later this year for a market that it said was "overhyped."
As recently as early May, prices on the London Metal Exchange were down for the year, until buoyant Chinese demand and labor problems at some of the world's biggest mines sparked a rebound. As the rally gained momentum, speculators piled in like never before. Even still, copper for immediate delivery is trading at a steep discount to futures contracts and Chinese buyers are paying smaller premiums -- both of which signal ample supplies.
"We aren't seeing the improvement in fundamentals that would justify prices moving higher," Michael Widmer, a metals strategist at Bank of America, said by phone from London. "The risk of a correction is there in all metals, but copper is the one that stands out the most."
On Wednesday, copper for delivery in three months slipped to $6,556 a metric ton, trading near a three-year high. Futures on the Comex in New York were $2.99 a pound.
Spreads
But LME copper for immediate delivery on Tuesday was trading at $33.83 a ton less than the three-month contract, near the widest discount in four years. When supplies are tight, there's usually a premium to get the metal right away.

"Something seems off about this recent rally, and we still remain skeptical of its strength and duration," Dane Davis, an analyst at Barclays, wrote in a note published Tuesday.
Copper will average $5,950 in the fourth quarter on weaker growth in China, Davis said, adding that the threat of further labor-related supply disruptions is low.
Premiums
In China, the world's biggest copper buyer, there are signs that physical traders aren't having trouble accessing supply. On the Shanghai Metals Market, the so-called Yangshan premium that buyers pay on top of the benchmark price was $65 a ton, down from this year's high of $72, exchange data show.

Speculation
Another concern is that bullish hedge-fund bets are already the highest ever. Without support from the physical industry, prices could be set for a swift drop as investor positions are unwound, according to Bernard Dahdah, a metals analyst at Natixis in London.
Since June, large speculators on the Comex have more than doubled their net-long position, or the difference between bets on a price increase and wagers on a decline. The holding reached 120,175 futures and options contracts as of Aug. 15, the most since the U.S. Commodity Futures Trading Commission began tracking the data in 2006.
"Private investors can leave these markets just as quickly as they get in," Dahdah said.
Before it's here, it's on the Bloomberg Terminal.
LEARN MORE