White House Snub Sends Coal Miner Murray Energy's Bonds Plunging
By , , and
Company had sought order to keep customer's plants open

Request was made to prevent possible bankruptcy, Murray says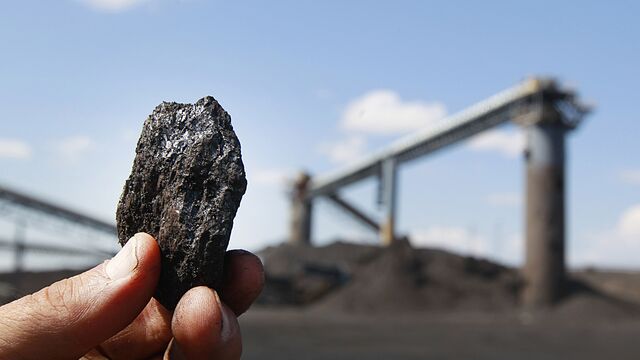 Bonds of Murray Energy Corp. dropped deeper into distress on Thursday after the Trump administration denied the coal miner's requests for an emergency order that the company said would help it avoid potential bankruptcy.
Murray, the largest closely held U.S. coal producer, had sought to help keep power plants in Ohio and Pennsylvania in operation. Those facilities are owned by FirstEnergy Solutions Corp., a large customer of Murray's that's "on the verge of bankruptcy," according to letters from the coal company to the White House and the Energy Department.
The White House's denial underscores the limits of President Donald Trump's ability to help coal, an industry he has long vowed to support. Murray's $1.1 billion of 11.25 percent bonds due 2021 fell almost 7 cents on the dollar on Wednesday and another three-quarters of a cent on Thursday to 60.25 cents, according to Trace, the bond-price reporting system of the Financial Industry Regulatory Authority. It was the biggest decliner and the most actively traded security in the U.S. corporate-bond market on Wednesday, the data show.
Those same bonds surged last year, helped in part by the Republican presidential candidate's promises to revive America's coal industry, and exceeded 83 cents on the dollar as recently as February.

"President Trump has followed through on his unwavering commitment to the nation's coal miners," White House spokeswoman Kelly Love said. His actions include repealing the Clean Power Plan and removing the U.S. from the Paris climate agreement, she said in an email. Invoking the Federal Power Act "in this manner at this time is not an appropriate use of this authority."
A report from the Department of Energy published late Wednesday recommends that the Environmental Protection Agency ease rules on coal plants, providing Trump a plan for fulfilling his campaign promise. Natural gas surpassed coal as the leading source of U.S. electricity generation for the first time last year, the study found, as coal struggles to compete with its cheaper and abundant alternative.
Gary Broadbent, a spokesman for St. Clairsville, Ohio-based Murray, declined to comment.
Debt Payments
Robert E. Murray, the company's chief executive officer and an early backer of Trump, said in a letter earlier this month that he was present when the president expressed support for the company's plea and directed Energy Secretary Rick Perry to get it done.
Murray Energy has debt payments of $44.4 million due at the end of September, another $59.4 million on Oct. 17 and $44.3 million at the end of the year, Murray's Chief Financial Officer Robert D. Moore wrote in an Aug. 18 letter to Perry.
"A bankruptcy filing by FirstEnergy, or another of our major customers, would make it impossible for Murray Energy to make these debt payments," Moore wrote, which he said would ultimately result in a bankruptcy filing by Murray Energy. The letters were obtained by the Associated Press and posted online.
FirstEnergy Corp. said in November that it may consider options including debt restructuring or bankruptcy protection for its FirstEnergy Solutions unit. Jennifer Young, a spokeswoman for the parent company, said FirstEnergy has lobbied both state and federal officials for help.
The solution sought in the Murray letter was not among those offered in an Energy Department study on grid solutions published overnight, Young said. FirstEnergy Solutions' coal plants include W.H. Sammis in Ohio and Bruce Mansfield in Pennsylvania, she said.
At a rally in West Virginia earlier this month, Trump said he had made good on his promises to put coal workers back to work. "We have ended the war on beautiful, clean coal. We have stopped the EPA intrusion. American coal exports are already up," he said.
Murray, a closely held company, produces about 65 million tons of the fossil fuel a year, according to the company's website. It primarily operates in the Northern Appalachian and Illinois coal basins and sells its coal to power plants operated by companies including FirstEnergy.
— With assistance by Rebecca Kern, Arit John, and Jim Polson
Before it's here, it's on the Bloomberg Terminal.
LEARN MORE