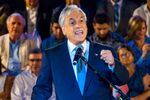 Chile's upcoming presidential election might look like a race that's effectively over. Polls show billionaire and opposition leader Sebastian Pinera, the pro-business former president, with more than double the support of any other candidate ahead of a Nov. 19 vote. His rivals in the center-left ruling coalition, which has governed Chile for 23 of the past 27 years, are divided. And with the economy sluggish, many Chileans say they're ready for change. Yet, it's not inevitable that they will vote the right-wing back into power for only the second time since democracy was restored in Chile after the 17-year dictatorship of Augusto Pinochet.
1. What do the polls say?
Pinera's support has edged above 40 percent in the past week, according to weekly polls by Plaza Publica. That compares with as much as 20 percent for his two leading rivals, Alejandro Guillier from the ruling coalition and Beatriz Sanchez from the left-wing Broad Front. A second candidate from the governing alliance, Carolina Goic of the Christian Democrats, polled 5 percent in a recent survey.
2. What if no candidate wins more than 50 percent?
In that case, the two leading candidates will face off Dec. 17. The biggest question would be whether the center and left unify behind the remaining candidate on their end of the political spectrum. If it's Guillier, Sanchez's Frente Amplio has refused to say whether they will back him, arguing deep disagreements over policy. At the same time, some of Goic's supporters may go over to Pinera, whose more conservative social views and liberal economic outlook they find more palatable than that of Guillier, who is further to the left.
3. So what could stand in Pinera's way?
For one thing, Pinera. The billionaire businessman's wide array of investments have been the source of multiple embarrassments. In 2007, Pinera was fined by Chile's securities regulator for buying shares in Chile-based Lan Airlines SA after being informed of its earnings before they were made public. Among other cases, he also held investments in a Peruvian fishing company even as Chile was disputing fishing rights in the waters between the two nations. Pinera has always denied any wrongdoing and none of the scandals has yet to seriously damage his popularity. More broadly, many voters are skeptical a billionaire is the man to clean up a business community tainted by accusations of monopolistic practices.
4. What's the state of the economy?
A rapid expansion of the past quarter-century ended four years ago, with growth sluggish ever since. Investment has declined in each of those years, the budget deficit has widened, and both Standard & Poor's and Fitch have downgraded Chile's credit rating. Yet, Chileans are also wealthier than ever before, unemployment remains low, wages keep rising and immigrants are flooding into the country as the jobs market expands. There are none of the sights commonly associated with economic problems -- boarded up stores and long lines at unemployment insurance offices.
5. Then why do voters say they want change?
Business leaders say the government must focus on accelerating economic growth. But the biggest public outcry has been about social services, on which Pinera takes a free market position. Hundreds of thousands of people took to the streets last year to demonstrate against a pension system that has left many in poverty. Their principal target was the private companies that manage Chileans' obligatory retirement savings. Pinera wants to preserve that arrangement and increase minimum payments into it. President Michelle Bachelet has proposed a new government-managed system of collective savings to boost pension payments to the poor. Her government has provided free higher education to about 60 percent of students, something that Pinera wants to replace, at least in part, with student loans.
The Reference Shelf
Before it's here, it's on the Bloomberg Terminal.
LEARN MORE