Wanda Walks Away From London Land Purchase Amid China Scrutiny
Bloomberg News
Chinese group ends plans to buy 10-acre Nine Elms land plot

Move comes amid mounting Chinese scrutiny of overseas deals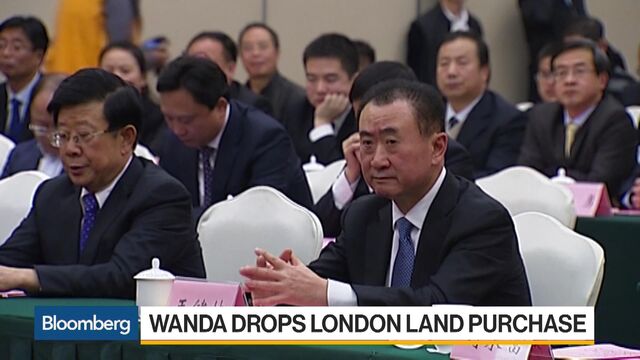 Start your day with what's moving markets in Asia. Sign up here to receive our newsletter.
Billionaire Wang Jianlin's Dalian Wanda Group Co. scrapped plans to buy a land plot in London for 470 million pounds ($606 million) amid the Chinese government's intensifying scrutiny of overseas investments.
Wanda's International Real Estate Center is no longer in pursuit of the 10-acre Nine Elms Square land, the Chinese company said in a statement to Bloomberg on Tuesday. Hours later, Guangzhou R&F Properties Co. said it and C C Land Holdings Ltd., the owner of London's Cheesegrater tower, replaced Wanda as the buyers of the Nine Elms land.
The move is the latest sign that Wang, who was one of China's most prolific buyers of overseas assets until last year, is downsizing. Last month, the conglomerate agreed to sell most of its hotels and theme-park assets to Sunac China Holdings Ltd. and R&F for about $9.5 billion.

Big Chinese dealmakers such as Wanda, Anbang Insurance Group Co., Fosun International Ltd. and HNA Group Co. have been under increasing scrutiny this year as the Communist Party steps up its clampdown of capital outflows to protect the yuan from weakening further. Last week, the government formally laid down new rules on overseas investments, making explicit its campaign against what it calls "irrational" acquisitions of assets in industries ranging from real estate to hotels and entertainment.
One Nine Elms
Wanda still owns the 700-million-pound One Nine Elms twin-tower complex being developed on the south bank of the River Thames. Wanda, which had been diversifying away from its property roots and into entertainment in recent years, has interests in hundreds of real estate properties in 65 markets with an estimated property value of about $40 billion, according to Real Capital Analytics.
Apart from selling assets, Wang is also overhauling his business empire. Hong Kong-listed Wanda Hotel Development Co. said earlier this month that it will sell property assets to its real estate affiliate, while shares of the group's Wanda Film Holding Co. unit have been suspended from trading since early July, pending a restructuring of the company.
Wanda is under pressure. Last month, people familiar with the matter said the Chinese government ordered its banks to cut off funding for Wanda for several overseas projects found to have violated Chinese rules.
In the face of mounting scrutiny, Wang told Caixin magazine last month that the group will change its business strategy and will now switch its investment focus to domestic markets. Wanda plans to invest in a tourism project in the northwestern Chinese city of Lanzhou, Gansu Province, Gansu Daily reported this month.
— With assistance by Jing Yang De Morel, Wai Yi Shawna Kwan, Prudence Ho, and Hannah Dormido
Before it's here, it's on the Bloomberg Terminal.
LEARN MORE