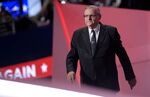 There's been lots of talk about whether President Donald Trump could, and would, grant a pardon to himself if the need ever arose. At least for a day, the possibility of a Trump pardon is focusing on someone else: Joe Arpaio, the former Arizona sheriff famous in some quarters and infamous in others for his aggressive enforcement of immigration laws by methods including racial profiling. Now 85, and voted out of office last November, Arpaio stands convicted of criminal contempt of court and faces sentencing in October. Though the U.S. president has wide latitude to grant clemency, a pardon of Arpaio at this point would be highly unusual.
1. Who says Trump is considering a pardon?
Trump himself. He told Fox News that he's "seriously considering" a pardon for Arpaio, who "has done a lot in the fight against illegal immigration" and is "a great American patriot."
2. What would be unusual about pardoning Arpaio?
The vast majority of presidential pardons are processed and vetted through the U.S. Justice Department's Office of the Pardon Attorney. The pardon attorney's website says, "All requests for executive clemency for federal offenses are directed to the Pardon Attorney for investigation and review." No such request has been made on Arpaio's behalf. And the Justice Department's guidelines say pardon requests shouldn't be made until five years have passed after the completion of a sentence, or from the sentencing date if no confinement is ordered.
3. Could Trump grant one anyway?
Yes. The president can grant a pardon "to any individual he deems fit, irrespective of whether an application has been filed with the Office of the Pardon Attorney," and at any time after the commission of an offense, according to the Congressional Research Service.
4. Is Arpaio facing jail time?
His conviction, on one count of federal misdemeanor criminal contempt, for defying a 2011 court order to stop traffic patrols that targeted immigrants, carries a maximum sentence of six months behind bars. His clean record and age would most likely work in his favor in avoiding jail.
5. Whom has Trump pardoned?
Nobody, so far. But he's made clear that he's curious about the possibility of using pardons to short-circuit the broadening investigation into his and his campaign's connections with Russia during the 2016 presidential campaign.
6. Who else is seeking pardons?
A lot of people, most of them not famous at all. There were 2,270 pending requests for pardons and 8,953 pending requests for commutations as of July 31, according to the Justice Department. A commutation reduces a sentence being served; a pardon is an act of forgiveness.
The Reference Shelf
— With assistance by Chris Strohm
Before it's here, it's on the Bloomberg Terminal.
LEARN MORE