JPMorgan: Range-Bound S&P 500 Could Spell Trouble For U.S. Equities
By
Flight-to-quality rally in Treasuries seen if stocks crack

Nasdaq 100 can offer clues to next 'material correction'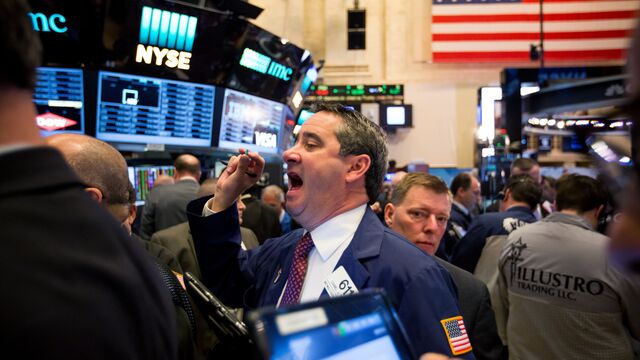 For once, stability in stocks might be a bad thing. Technical analysts at JPMorgan Chase & Co. say that if the S&P 500 can't escape its 2,400 to 2,500 range, it could spell trouble for U.S. equities heading into September.
Amid the slew of headline risks -- including Washington turmoil, North Korea tension, and monetary policy shifts -- the last two weeks' price declines and initial volatility spikes from extreme low levels highlight stocks' vulnerability, raising the prospect of a flight to Treasuries, according to strategists including Jason Hunter and Alix Tepper.

"It's a time when you want to be extremely nimble," New York-based Hunter said by phone. "As we move into the typical seasonally weak period of September and October" there's a growing probability of increased volatility leading to a typical movement into safe haven assets, he said.
In the 10 years through 2016, the CBOE Volatility Index has moved an average of more than 22 percent in each of August, September and October, according to data compiled by Bloomberg. For the Nasdaq, the volatility index moved an average more than 21 percent in each of tho
se months.
While Hunter says it's still too early to make the call, more range-bound action for the S&P 500 Index heading into September would add conviction to the bearish equity market outlook, he and his colleagues wrote in a note last week. The gauge climbed 0.6 percent to 2,441.63 at 10.06 a.m. in New York.
Investors should also be on alert for the Nasdaq 100's moves. Price deceleration and volatility spikes after benign spells, like those seen last week, have frequently preceded "material corrections," according to JPMorgan.
"This is the first time where we're actually actively telling clients, especially in the Nasdaq where it's a more vulnerable setup, it's certainly time to either hedge or reduce exposure here," Hunter said.
Meanwhile if the yield on 10-year Treasuries subsequently heads toward 2 percent, it could trigger a number of sell signals, the strategists said.
— With assistance by Cecile Vannucci
Before it's here, it's on the Bloomberg Terminal.
LEARN MORE