Ex-Trader Litvak Ordered to Federal Prison During His Appeal
By
Former Jefferies trader scheduled to report to prison Sept. 12

Appeals court in New York also ordered an expedited appeal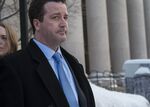 Jesse Litvak's luck has finally run out.
A federal appeals court on Tuesday ordered the former Jefferies LLC trader to report to prison on Sept. 12 to begin serving a two-year sentence for lying to customers about mortgage bond prices. He is appealing his January conviction and had asked the Manhattan-based court to allow him to remain free until the case is resolved.
That worked in 2014 after his first trial. Litvak was convicted, but the U.S. Court of Appeals in New York allowed him to remain free during the appeal. That court, known as the Second Circuit, later overturned the conviction, setting up this year's trial.
The refusal to release him on bail doesn't mean the latest appeal is doomed, said Peter J. Henning, a professor at Wayne State University Law School in Detroit. But the appeals court's familiarity with Litvak and the fact that he was convicted again after a second trial doesn't bode well, Henning said.
"Receiving the same sentence as he did after the first trial shows the district judge was not taking a favorable view of the case, which may mean the Second Circuit is less likely to disturb the conviction this time," Henning said.
Small Victory
Litvak did score a minor victory on Tuesday, with the appeals court expediting his appeal. The time that prosecutors have to file their response to his appeals documents was cut in half, so the case could be heard as soon as late November.
One of the rationales for granting bail pending appeal is to prevent a defendant from serving an entire prison sentence by the time a challenge is decided, said Evan T. Barr, a former federal prosecutor. The decision to speed up the case while not granting bail is a "compromise gesture," he said.
"The expedited appeal sort of addresses that issue of fundamental unfairness," Barr said.
Kannon Shanmugam, an attorney for Litvak, declined to comment. U.S. prosecutors didn't immediately respond to a request for comment.
Bond Crackdown
Litvak, 42, was convicted by a federal jury in New Haven, Connecticut, of one of 10 counts of securities fraud and sentenced in April to prison and to pay a $2 million fine. His arrest in 2013 presaged a crackdown on bond dealers who employ questionable sales tactics, which has led to criminal charges against another half-dozen traders and the departure of dozens more.
After his first trial, the appeals court said the trial judge had improperly blocked Litvak's attorneys from calling an expert witness who would testify that his behavior was commonplace among bond traders. But that expert's testimony at the second trial didn't stop jurors from convicting him.
Lies Traders Tell: New Trial, New Worry in Mortgage-Bond Circles
Litvak's appeal this time around centers on his contention that the government didn't prove his lies were "material" to his investors, or significant enough to affect their decisions whether to enter into a trade. His lawyers argue that such misstatements were only relevant to price negotiations and are of no consequence to a "reasonable investor."
His attorneys also say that the trial judge improperly allowed evidence that two of Litvak's alleged victims believed he was acting as their agent, even though the judge told jurors that Litvak wasn't acting on their behalf.
When Can Traders Lie? Nomura Case's Mixed Verdict: QuickTake Q&A
Litvak was the first of the more than half-dozen traders charged in the government's crackdown on shady bond trading practices to go to trial.  He could get ammunition for his appeal from the mixed result in a similar trial that took place earlier this year in Hartford. 
A former Nomura Holdings Inc. trader accused of similar conduct, Michael Gramins, was convicted in June of conspiracy and cleared of six fraud counts, while jurors deadlocked on two other charges. One of his colleagues, Tyler Peters, was acquitted of all charges, and jurors cleared a third Nomura trader, Ross Shapiro, of eight counts, while deadlocking on one conspiracy count. Prosecutors still have to decide whether to retry Gramins and Shapiro on the hung-jury counts.
The Nomura verdict helps support the government's claim that lying to even the most sophisticated parties in bond trades can amount to securities fraud, while highlighting how difficult it is for prosecutors to prove their cases in court. A former Cantor Fitzgerald & Co. trader arrested in December, David Demos, is scheduled to go on trial on similar charges next year.
The case is U.S. v. Litvak, 13-cr-00019, U.S. District Court, District of Connecticut (New Haven). The appeal is U.S. v. Litvak, 17-1464, U.S. Court of Appeals, Second Circuit (Manhattan.)
Before it's here, it's on the Bloomberg Terminal.
LEARN MORE